Affiliate Marketing Will Boost Sales!
Having trusted affiliates refer customers to your WooCommerce store is a sure way to increase sales.
Starting an affiliates program has never been easier!
Track sales, award commissions, and more! Your WooCommerce store can increase sales by having affiliates sending customers your way.
How it works
To get started, create your first affiliate by clicking on Create an Affiliate. Then send the affiliate their very own link. When a customer visits your site using this link the affiliate will be awarded a commission. It's a win-win!
Affiliates Report
Let the affiliates log in and track their own stats. Just link an Affiliate to a WordPress user.
Transparent Tracking
View reports by affiliate to monitor results. PW WooCommerce Affiliates Pro includes reporting by product.
Simple Setup
Running an affiliates program should not be difficult. PW WooCommerce Affiliates makes it straight-forward with easy to use screens.
Export
Export your affiliate report into CSV format.
Set Custom Commissions
Assign commission by Affiliate, Category, and even by Product.
Use Coupon Codes
An affiliate can be associated with an order by applying a coupon code.
Products Report
Monitor affiliate sales by product.
Enrollment Form
Allow users to request joining your affiliate program through our simple to use enrollment form.
1 Site
1 year of updates and support
$59
Best Value!
5 Sites
1 year of updates and support
$89
Screenshots
Affiliates dashboard
Monitor all sales and commissions at a glance. Sort, filter, and edit all in one place!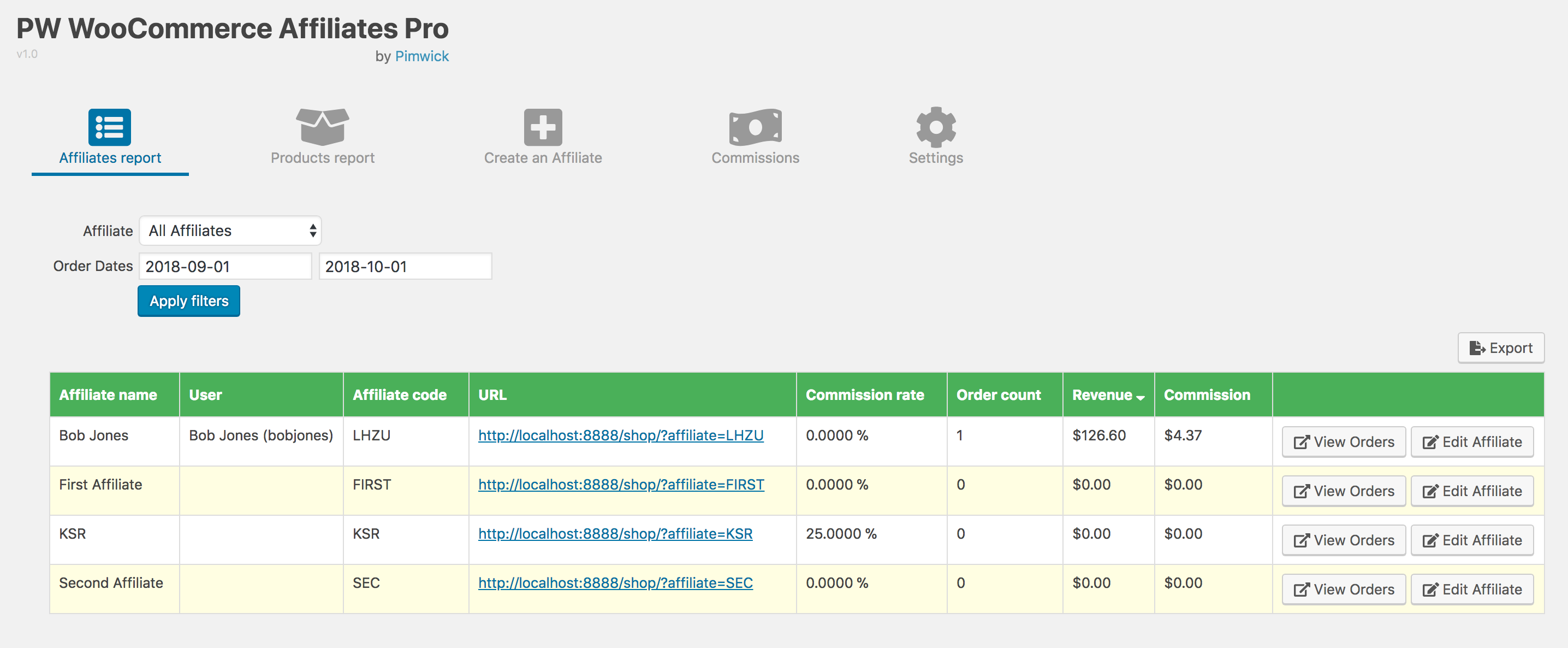 Products report
See how your affiliate products are selling.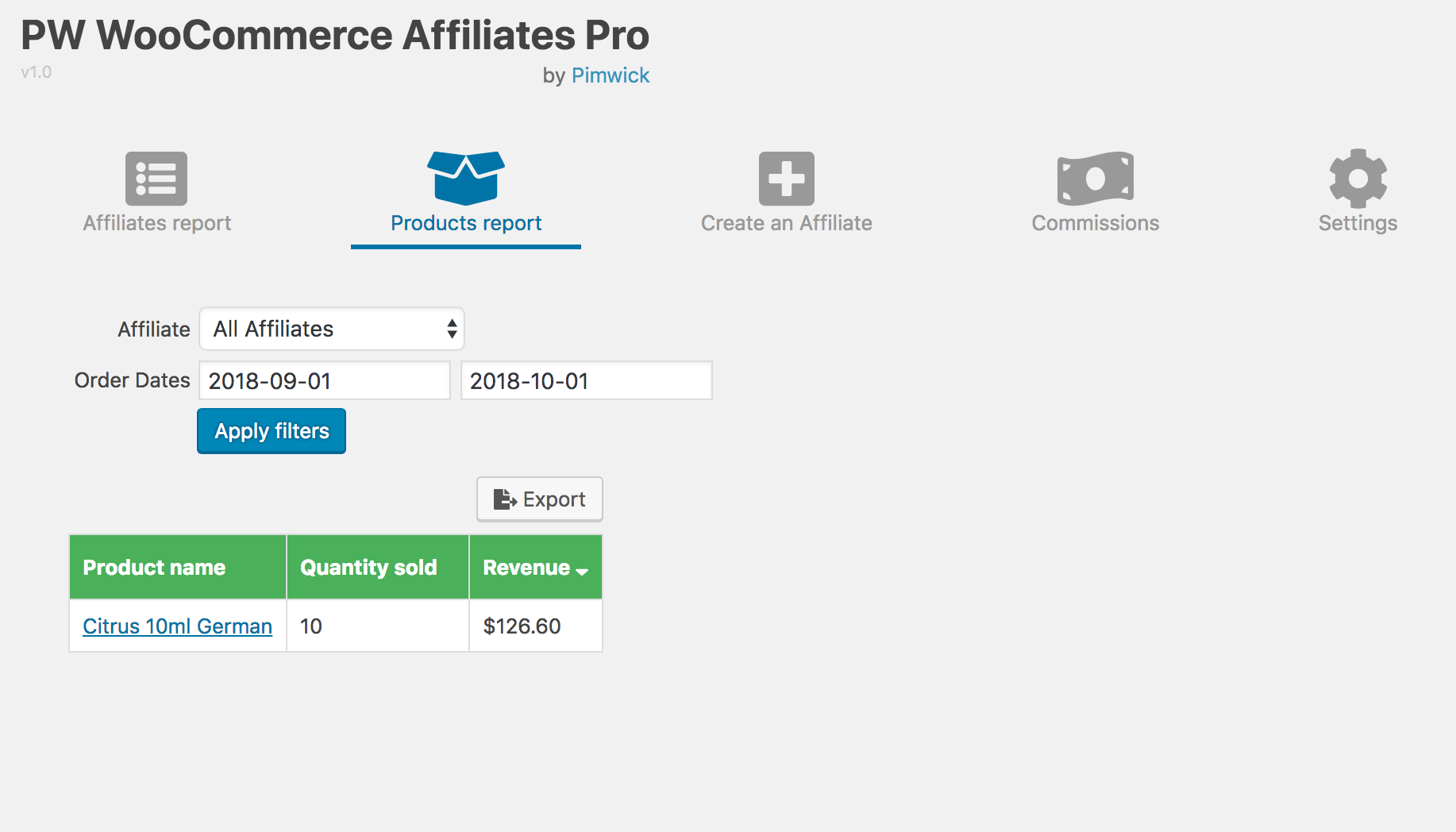 Creating an affiliate
Add a new affiliate in just one step.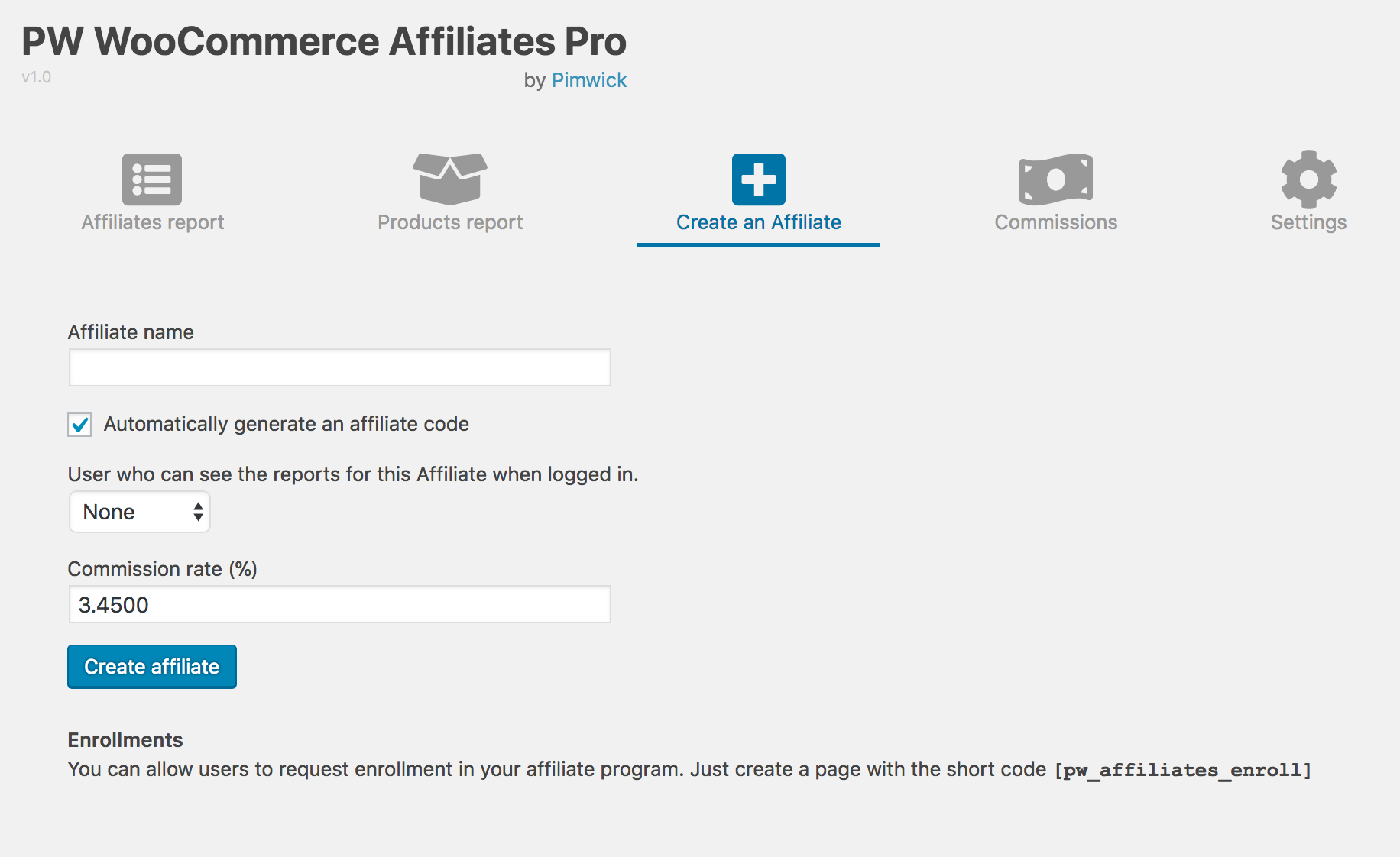 Commissions
Set commission by Affiliate, Category, or Product.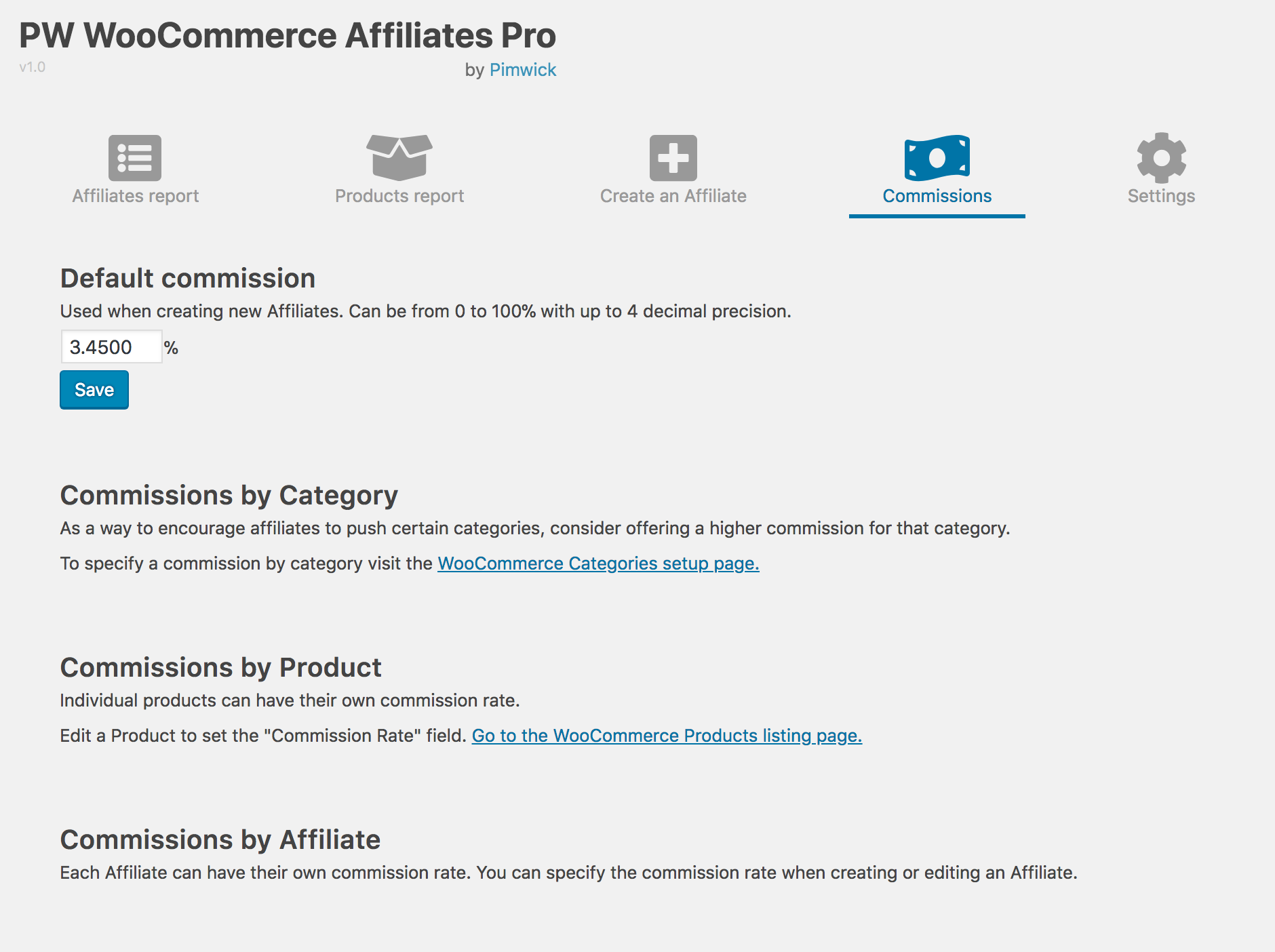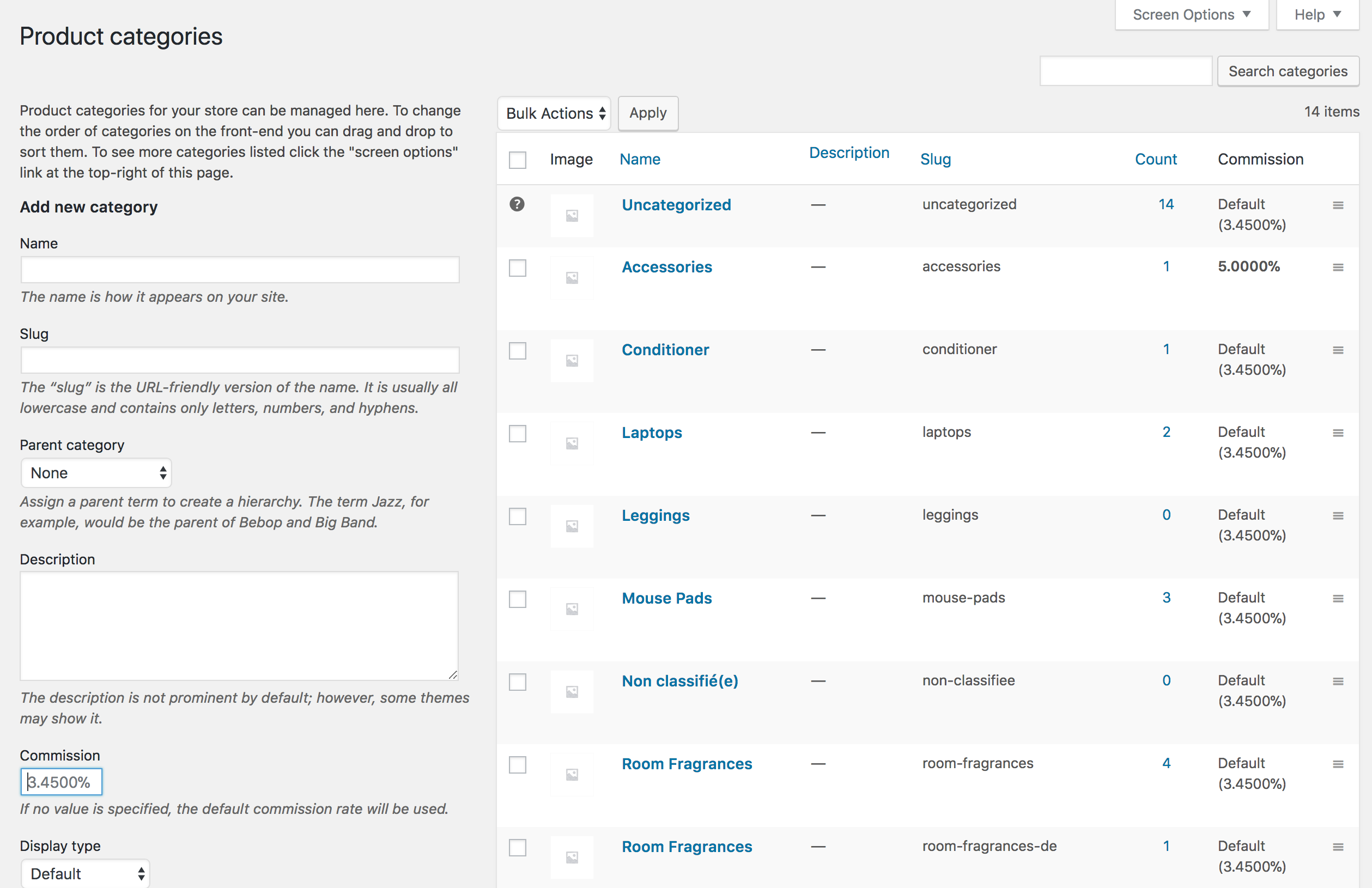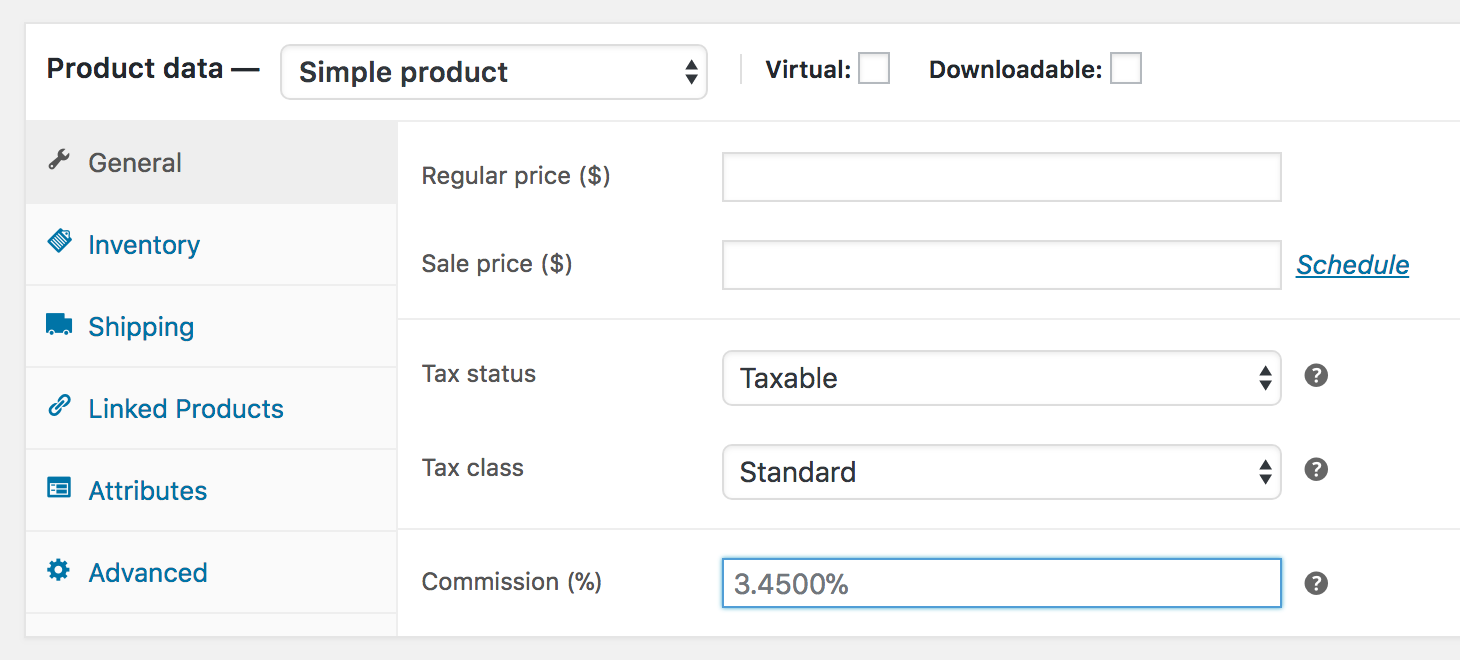 Flexible settings
Change configuration options from one spot.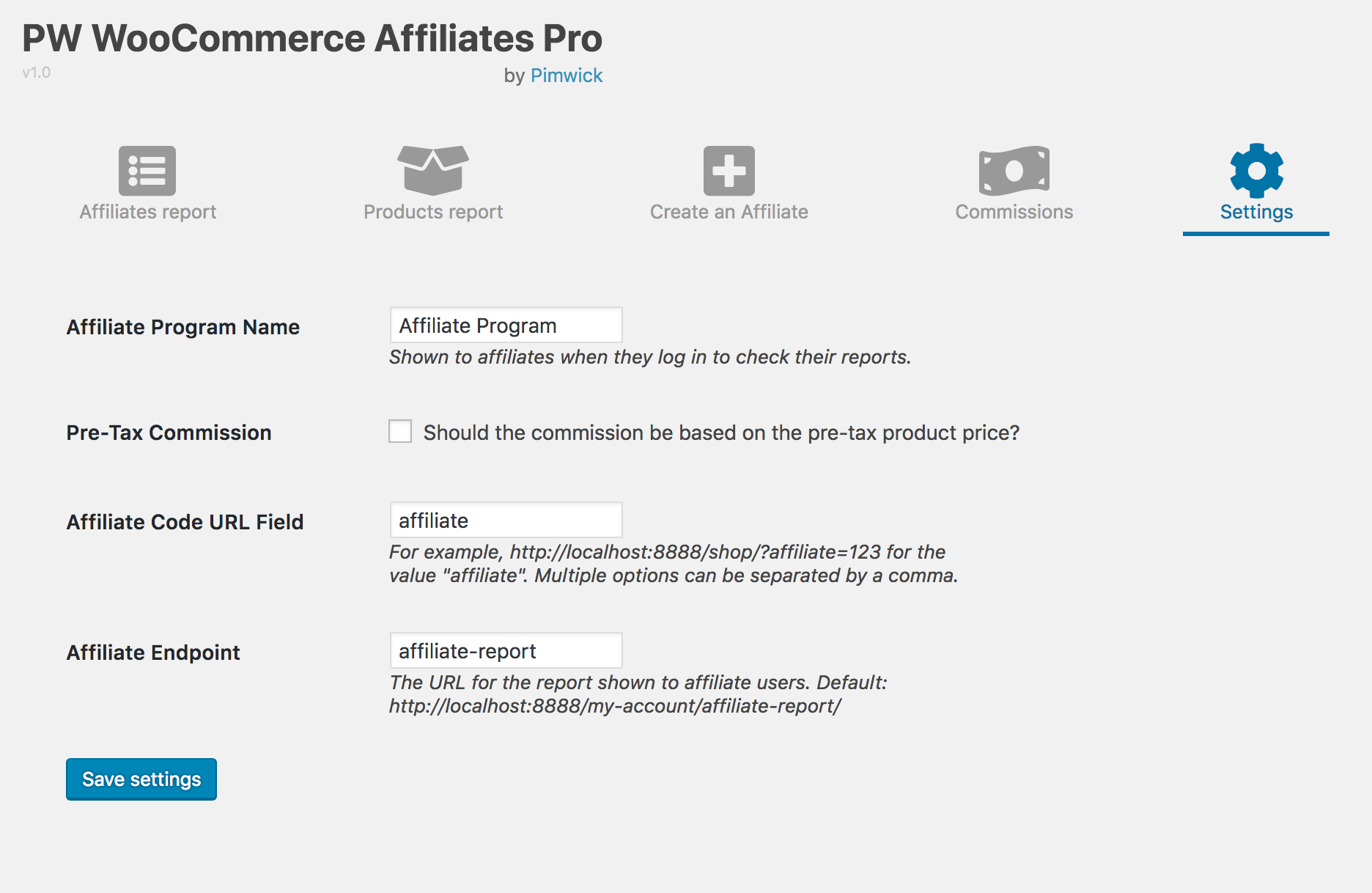 View Orders by Affiliate
Easily see order details for an Affiliate.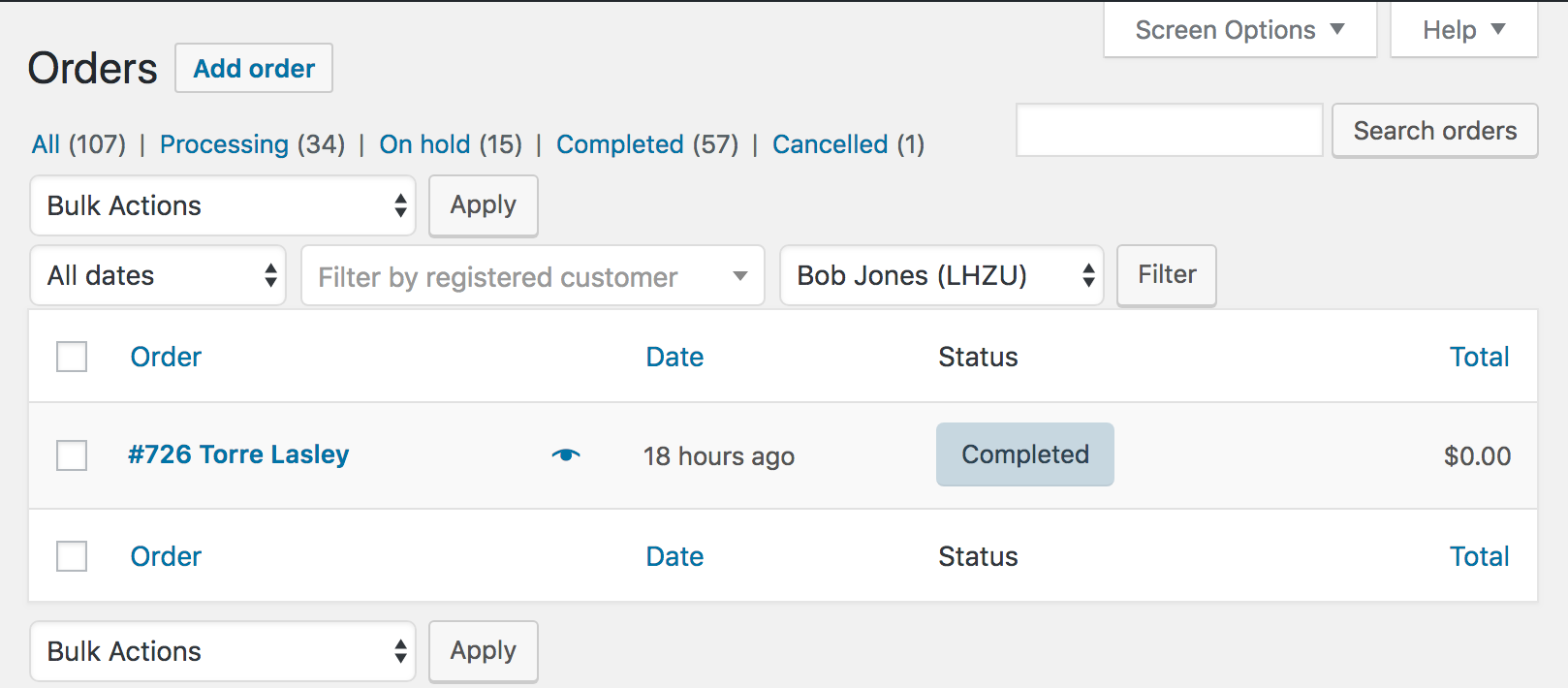 Affiliate Sign Up
Optionally allow visitors to request an invite to your affiliate program.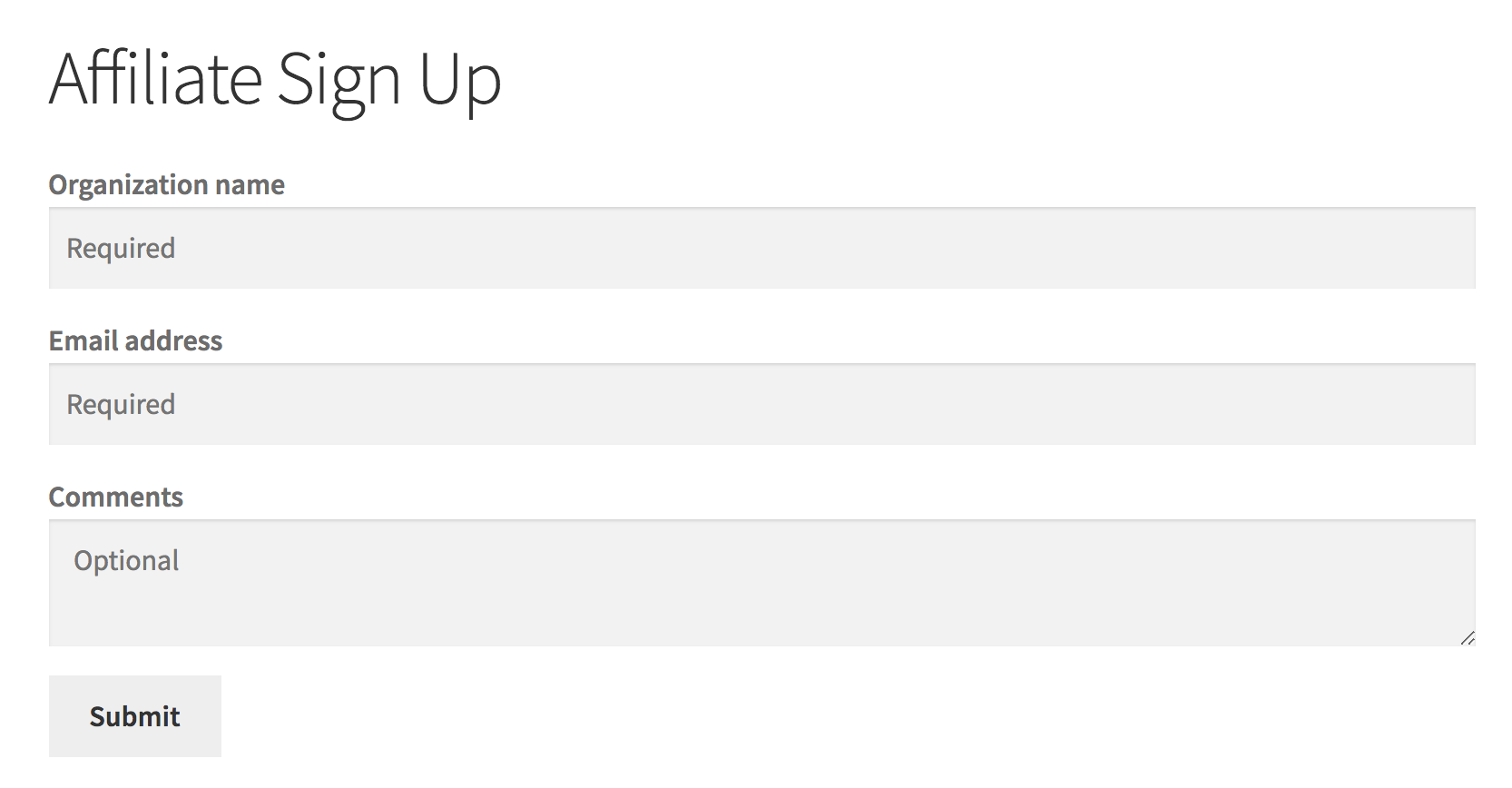 Affiliates can log in
If you link an affiliate account to a WordPress user, they can log in to view their stats.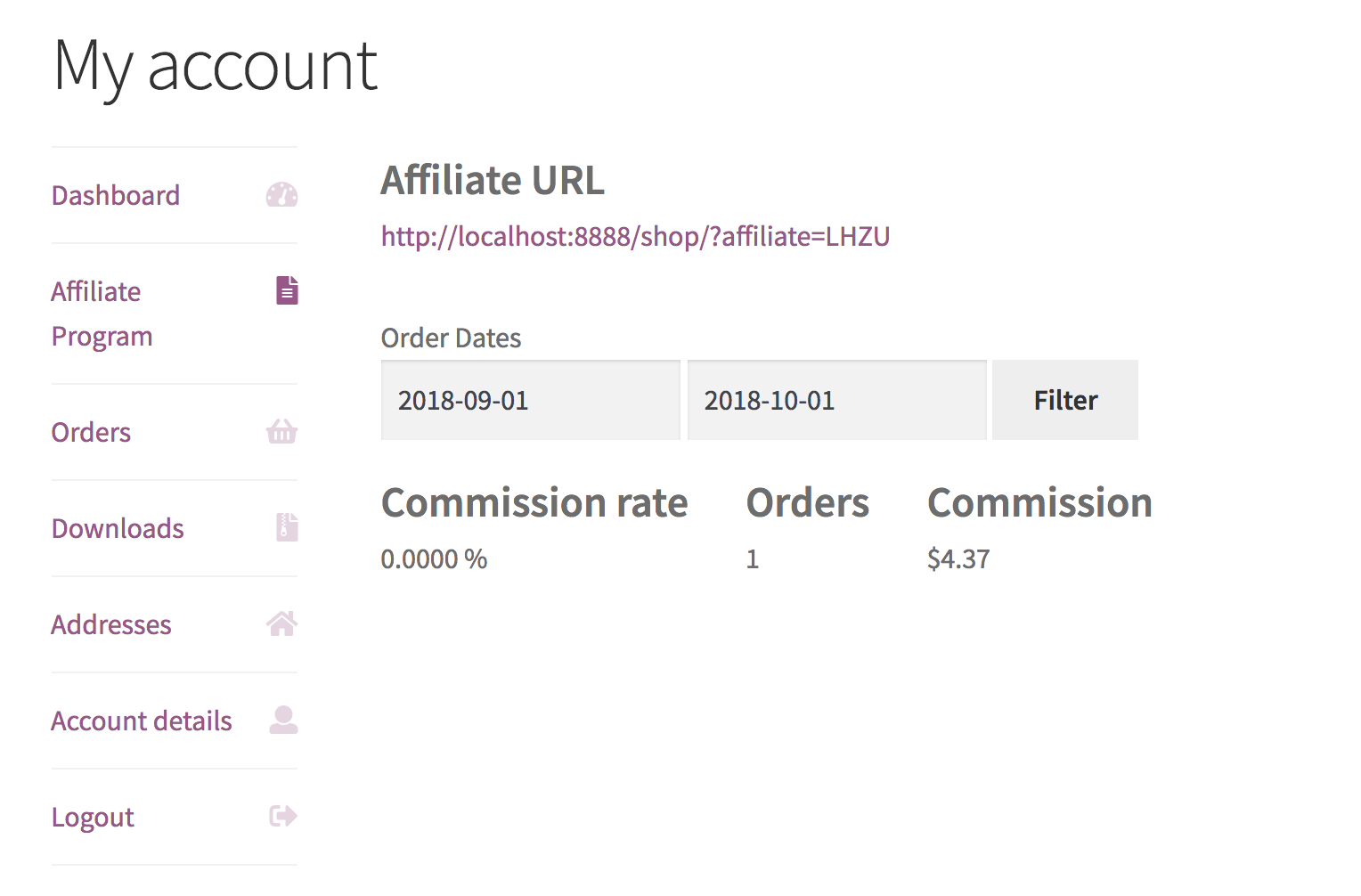 Try before you buy
There is a free version available with limited features. To install it, log into your WordPress Admin area, click on Plugins -> Add New, and search for "Pimwick".
Multilingual
Available in the following languages:
Dutch
French
German
Italian
Russian
Spanish
Version History
View the changelog.txt file.
License Information
Your license will renew automatically every year. If you want to cancel the renewal, you can do so from the My Account page. If you cancel your subscription and your license expires, you may continue using all of the features of the Pro version without any restrictions. However, you won't receive new features / bug fixes until you renew and you will be unable to activate the plugin again if deactivated or you change sites. We do not offer refunds for renewals. You can move your license to another site by deactivating the plugin and activating it on the other site.
Your license is valid only for the number of sites purchased and cannot be redistributed. If redistributed, your license will become invalid and the plugin will be disabled.
We cannot offer refunds for license renewals since that is what grants access to the latest version. You may cancel your subscription if you do not wish to be automatically billed for future renewals.
WooCommerce Experts Since 2016
WooCommerce is powerful, flexible, and sometimes really complicated!
Our passion is creating high quality, easy to use plugins that are affordable or free. We have been developing and supporting high quality WooCommerce plugins since 2016.
Why we created this plugin
We feel that running an Affiliates program should be painless and is essential for professional store owners. Configuration is complicated with other plugins and we wanted to make it simple.
At Pimwick we LOVE making plugins that save people time and are easy to use. We know you will love our plugins as much as we do. Contact us if you have any questions!
Need help?
Check out our Frequently Asked Questions page.