BOGO promotions for your WooCommerce store!
Offering BOGO deals shouldn't be hard. PW WooCommerce BOGO is specifically designed to make BOGO promotions quick and easy. Setup is a breeze and configuration lets you customize your promotion to maximize revenue.
PW WooCommerce BOGO Pro
Single Site
$59
Best Value
PW WooCommerce BOGO Pro
5 Sites
$89
PW WooCommerce BOGO Pro
Unlimited Sites
$199
Every Pro license includes:
1 year of support
1 year of upgrades
Unlimited use – Plugin does NOT expire, it's yours forever!
PW WooCommerce BOGO Pro is powerful
Buy One, Get One Free
Buy X, Get X e.g. Buy 3, Get 2 Free
% Off e.g. Buy Two, Get One 75% Off
Buy X, Get Y for % off
Any combination of eligible and discounted products
Spend a certain amount, Get Y for % Off
Consecutive discounts e.g. "Buy 1 Get 1 Half Off or Buy 2 Get 1 Free"
Always discounts the cheapest item automatically!
Common sense configuration options make customization easy
Schedule begin and end dates for the promotions
Specify products by category
Include or exclude individual products
Eligible products can be different than the Discounted products
Automatically add discounted products to the customer's cart
Require a coupon code to activate the BOGO
Limit the number of times the BOGO deal can be applied per order or for all customers
Specify that only identical products or variations are discounted
Options to exclude sale items or not allow other coupons in conjunction with BOGO offer
Compatible with all major payment gateways such as PayPal and Klarna
Try before you buy
There is a free version available with limited features. To install it, log into your WordPress Admin area, click on Plugins -> Add New, and search for "Pimwick".
Screenshots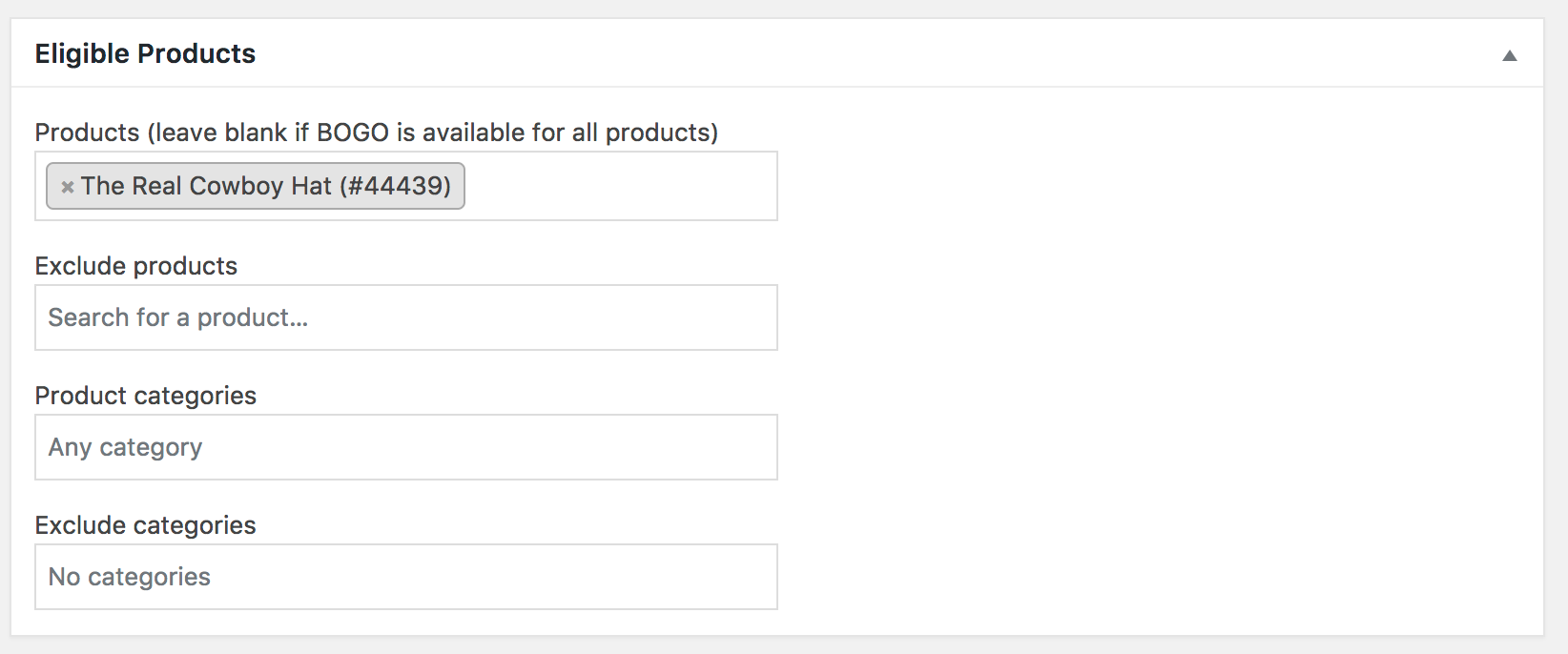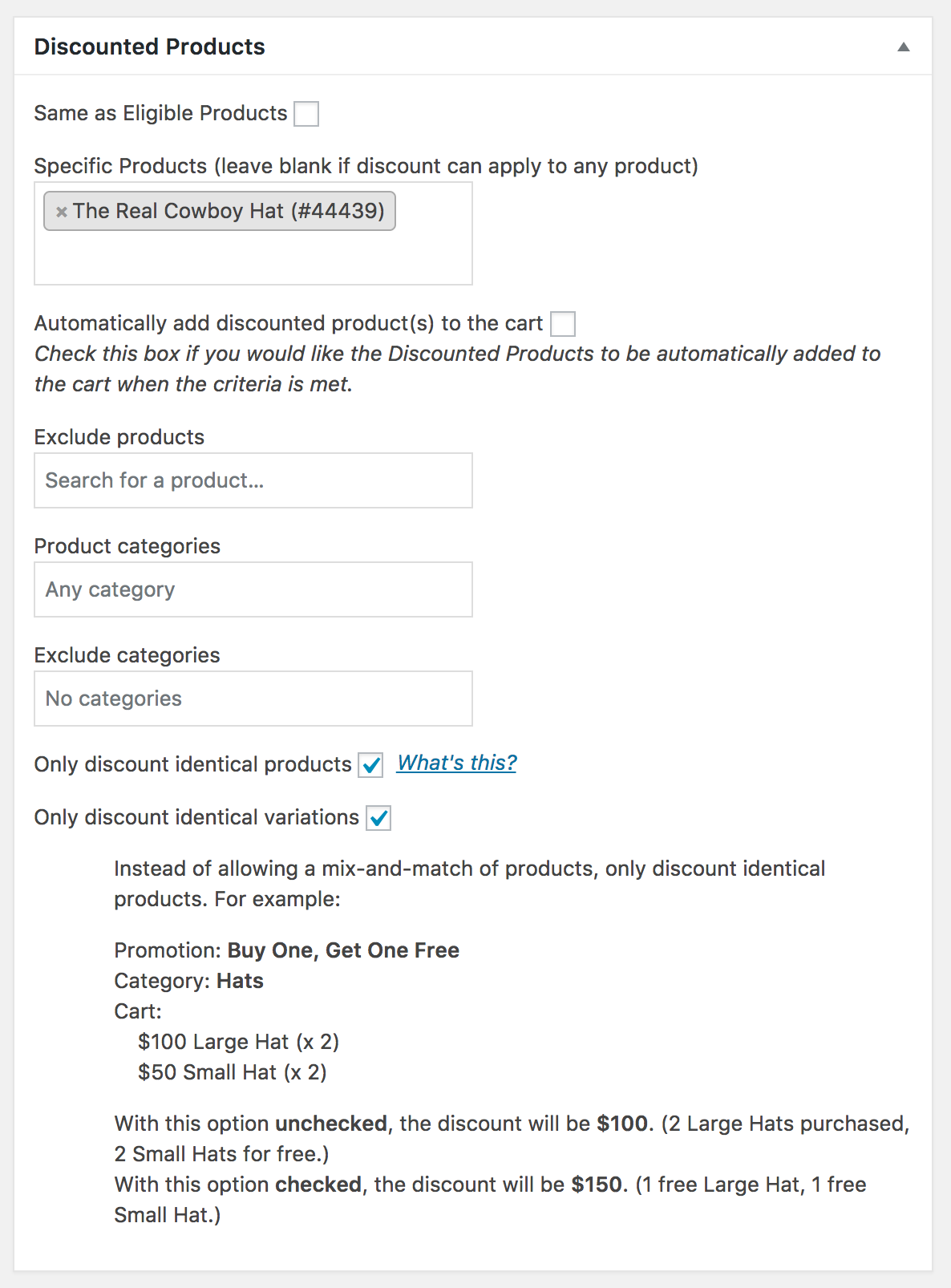 Discounts appear in the cart just like WooCommerce coupons!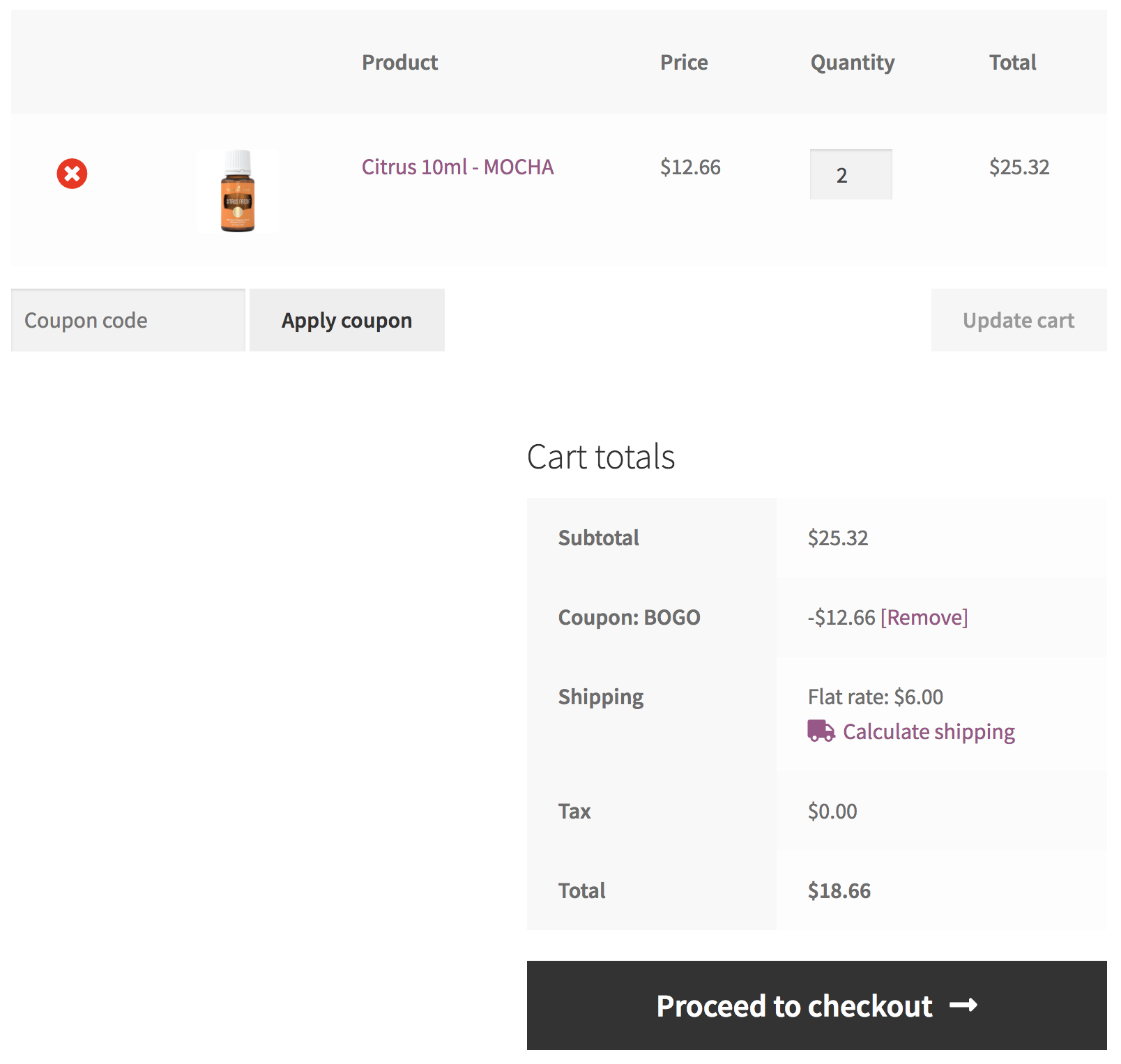 We love creating elegant plugins.
WooCommerce is powerful, flexible, and sometimes really complicated!
Our passion is creating high quality, easy to use plugins that are affordable or free.
We looked for a simple way to create a BOGO promotion and all we found were mega-utilities that were confusing to use. WooCommerce is an amazing platform and the vast array of plugins makes it hard to decide which one to use.
We created this plugin because we didn't want to spend all weekend learning how to use a complicated plugin just to do a simple promotion. Do one thing and do it well!
This plugin doesn't require a degree to learn how to operate it. You can start a new promotion in as little as 1 step (just give it a name!) and yet there are some simple configuration choices that result in custom promotions. Don't let the simplicity fool you, this plugin is capable of handling a wide variety of scenarios.
At Pimwick we LOVE making plugins that save people time and are easy to use. Contact us@pimwick.com if you have any questions!
---
We are proud to offer a variety of free and premium plugins that will save you time, enhance your WooCommerce store, and earn you more money!
WooCommerce Essentials Bundle
Three plugins with the essential features missing from WooCommerce!

Gift Cards
Sell gift cards to your WooCommerce store!

Bulk Edit
Finally, no more tedious clicking through countless pages making the same change to all products!
WooCommerce Coupons Plus
Super charge your WooCommerce Coupons with a suite of features. More options, more sales.

BOGO
Makes Buy One, Get One promotions so easy!

Affiliates
Easily track and reward affiliates in your WooCommerce store.

Black Friday and Cyber Monday for WooCommerce
You only need ONE PLUGIN to run your Black Friday, Cyber Monday, and other special events!

On Sale!
Schedule sales by date and time for ENTIRE CATEGORIES instead of one product at a time. Simply the FASTEST way to schedule sales in WooCommerce!

Let's Export!
No more complicated processes to export your data. Designed for maximum usability, create Excel and CSV files in seconds.

Copy Coupon
Adds a Copy button to WooCommerce coupons so you can quickly create similar coupons without having to start from scratch.
Exclude Free Shipping
Specify products that cause Free Shipping to not be available when they are in the cart.
Legendary Customer Support
Sometimes things don't go as planned. When that happens, we stick with you until it's resolved. Your request is not put in a queue, a real person responds quickly! Don't believe us? Email
us@pimwick.com
and see for yourself!
We know you will love our plugins as much as we do. Satisfaction 100% guaranteed. We offer a 30 day refund on our plugins.