Experience the new way to bulk edit products in your WooCommerce store.
Intuitive and responsive, even with large WooCommerce product catalog. Experience the new way to bulk edit products in your WooCommerce store!
Bulk discount your product prices. Change sale prices for thousands of products. Rapid inventory updating. Category transitions.
Built with ease of use in mind, PW WooCommerce Bulk Edit is incredibly intuitive. Changes are visible and only applied when you are ready. Save your filters to make future updates a snap.
Intuitive and responsive, even with a large product catalog. A tremendously powerful way to update your WooCommerce product catalog.
Finally, no more tedious clicking through countless pages making the same change to all products!
Now supports YITH Multi Vendor. You can filter by Vendor and bulk edit the Vendor field.
Bulk edit product variations, prices, and more.
Try before you buy
There is a free version available with limited features. To install it, log into your WordPress Admin area, click on Plugins -> Add New, and search for "Pimwick".
Relax! You're in control of your WooCommerce product catalog with the power of PW WooCommerce Bulk Edit.
Filter products on many fields using PW WooCommerce Bulk Edit's intuitive filter:
Product name
Product type
Description
Short description
Variation description
Categories
Tags
Custom attributes (Size, Color, etc)
Regular price
Sale price
Status
Stock status
Stock quantity
Shipping class
Vendor (if you have YITH Multi Vendor installed)
Tax status
Tax class
Manage stock
Modify a variety of product fields:
Product Name
Product Type
Regular Price
Sale Price
Sale Start Date
Sale End Date
All of your custom Attributes
Default values for Variable products
Attribute Visibility
Product Description
Short Description
Variation Description
SKU
Categories
Tags
Brand
Vendor (if you have YITH Multi Vendor installed)
Tax Status
Tax Class
Weight
Length
Width
Height
Shipping Class
Manage Stock
Stock Quantity
Allow Backorders
Stock Status
Sold Individually
Purchase Note
Menu Order
Catalog Visibility
Featured
Status
Don't see a field listed that you need to edit? Just ask! Use our contact form or send an email to us@pimwick.com.
Other features include:
Easily add Variations to products
See what you're about to change before you hit save. No more surprises!
Inline editing in addition to bulk editing.
Safety net: you can undo changes before saving.
Edit Variations just as quickly as simple products
Change prices by a specific amount or a percentage
Specify rounding precision when changing prices by a percentage
Change the Sale price based on Regular price
Save and load filters
Add/remove categories
Search/replace text, append, prepend, or change capitalization
Wildcard searches
Keyboard navigation
We love creating elegant plugins.
WooCommerce is powerful, flexible, and sometimes really complicated!
Our passion is creating high quality, easy to use plugins that are affordable or free.
Screenshots

Preview all changes before saving. Price drops highlight in red to give you confidence in your changes!

Inline editing, with keyboard navigation.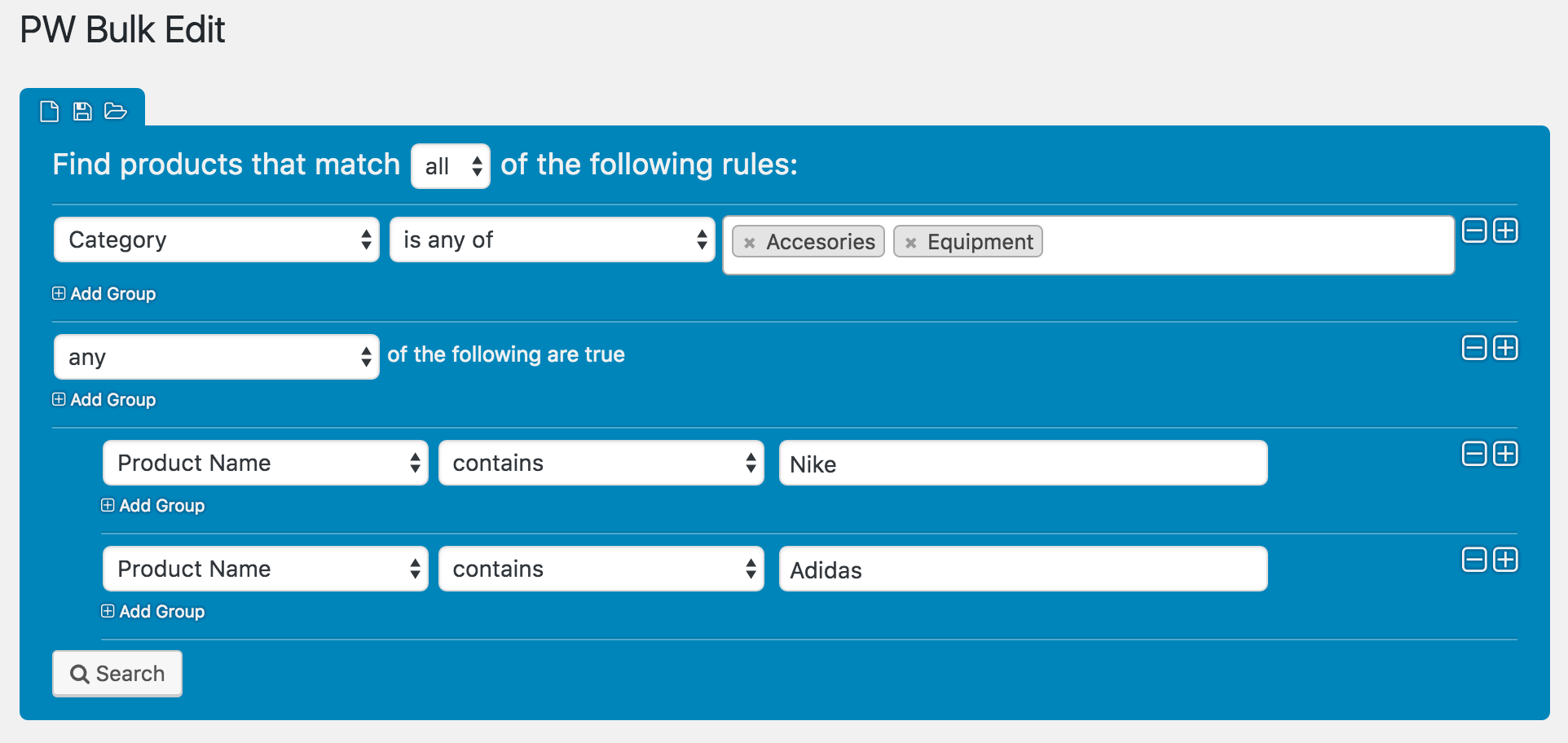 Complex filtering has been simplified to give you ultimate flexibility and control.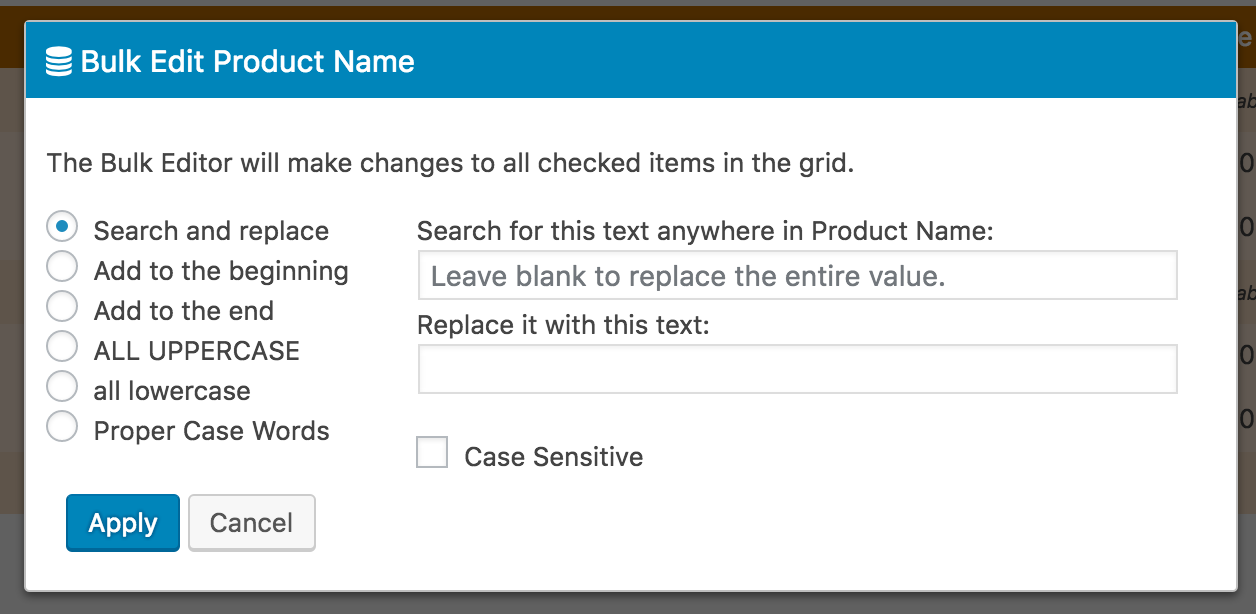 Powerful bulk editing for WooCommerce products.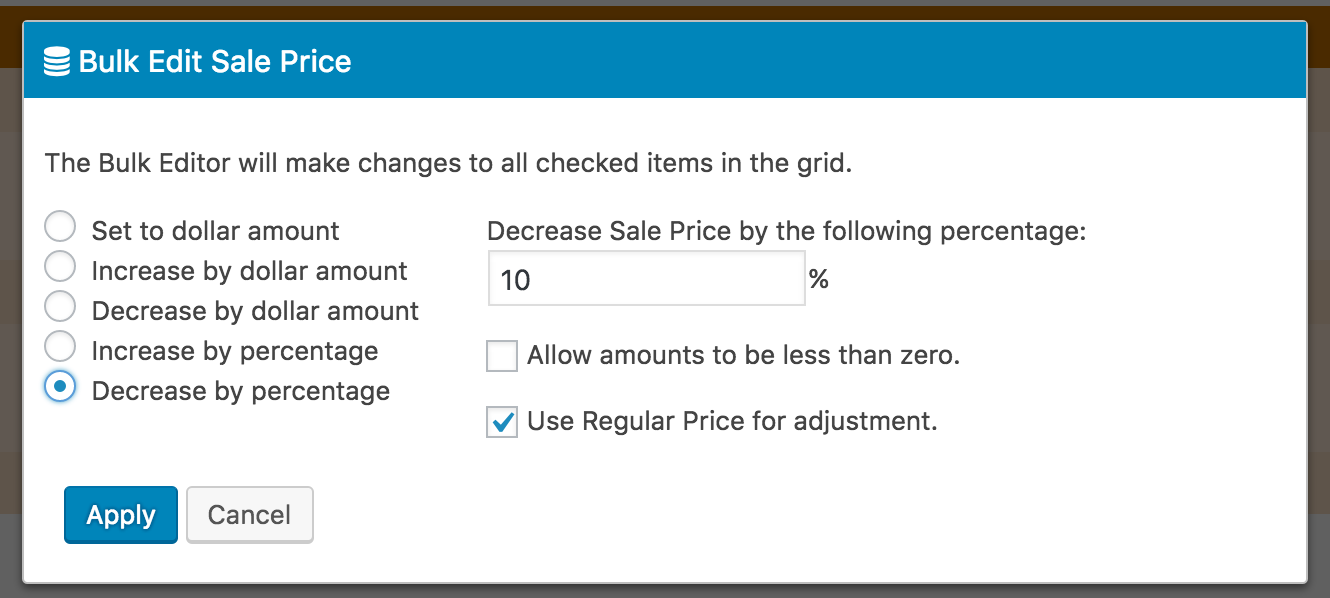 Pro level features at a fraction of the price of the competition.

Filter using YOUR attributes to select specific variations (for example, the Color attribute).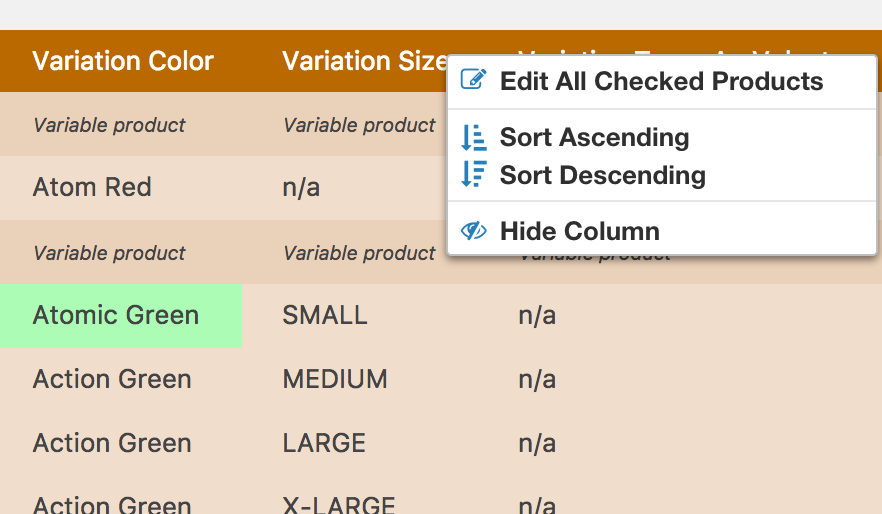 Edit Variations individually or in bulk.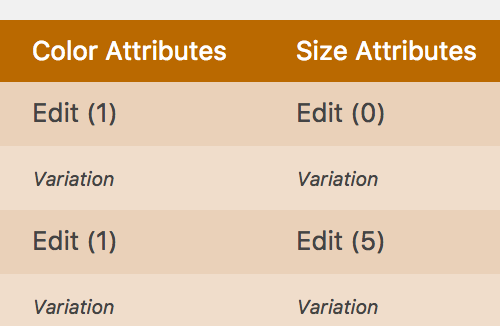 Adjust the attributes available for Variable Products.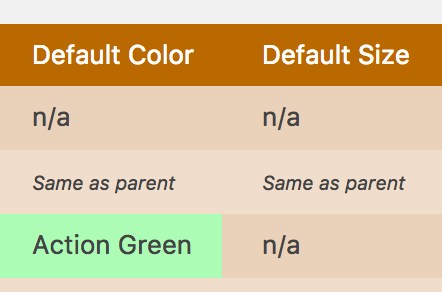 Even bulk edit the Default Form Values for Variable Products!

PW WooCommerce Bulk Edit is so easy to use!
At Pimwick we LOVE making plugins that save people time and are easy to use. Contact us@pimwick.com if you have any questions!
---
We are proud to offer a variety of free and premium plugins that will save you time, enhance your WooCommerce store, and earn you more money!

Gift Cards
Sell gift cards in your WooCommerce store!

Black Friday and Cyber Monday for WooCommerce
You only need ONE PLUGIN to run your Black Friday, Cyber Monday, and other special events!

Bulk Edit
Finally, no more tedious clicking through countless pages making the same change to all products!

BOGO
Makes Buy One, Get One promotions so easy!

On Sale!
Schedule sales by date and time for ENTIRE CATEGORIES instead of one product at a time. Simply the FASTEST way to schedule sales in WooCommerce!

Let's Export
Create email lists and more with this beautiful export utility!

Copy Coupon
Adds a Copy button to WooCommerce coupons so you can quickly create similar coupons without having to start from scratch.
Exclude Free Shipping
Specify products that cause Free Shipping to not be available when they are in the cart.
Legendary Customer Support
Sometimes things don't go as planned. When that happens, we stick with you until it's resolved. Your request is not put in a queue, a real person responds quickly! Don't believe us? Email
us@pimwick.com
and see for yourself!
We know you will love our plugins as much as we do. Satisfaction 100% guaranteed.