5 out of 5 stars on
WordPress.org

Easily bulk edit your entire WooCommerce product catalog.
PW WooCommerce Bulk Edit Pro
lets you do more:
Edit Categories, Sale Prices, Attributes, and so many other fields! (See full list below)
Bulk change the Sale Price based on Regular Price
Bulk Delete products and variations
Create new Variations automatically
Additional filtering options like "Is Empty" and "Is Not Empty"
Save and load your custom filters
Use the power of Regular Expressions for searching and replacing text values
Compatible with Dokan Multivendor Marketplace
Support for many third-party plugins and themes like Flatsome, WooCommerce Brands, and YITH Multi Vendor
1 Site
1 year of updates and support
$59
Best Value!
5 Sites
1 year of updates and support
$89
Intuitive and responsive, even with large WooCommerce product catalog. Experience the new way to bulk edit products in your WooCommerce store!
Bulk discount your product prices. Change sale prices for thousands of products. Rapid inventory updating. Category transitions.
Built with ease of use in mind, PW WooCommerce Bulk Edit is incredibly intuitive. Changes are visible and only applied when you are ready. Save your filters to make future updates a snap.
Intuitive and responsive, even with a large product catalog. A tremendously powerful way to update your WooCommerce product catalog.
Finally, no more tedious clicking through countless pages making the same change to all products!
Screenshots

Set or clear product and variation images in bulk.

Preview all changes before saving. Price drops highlight in red to give you confidence in your changes!

Inline editing, with keyboard navigation.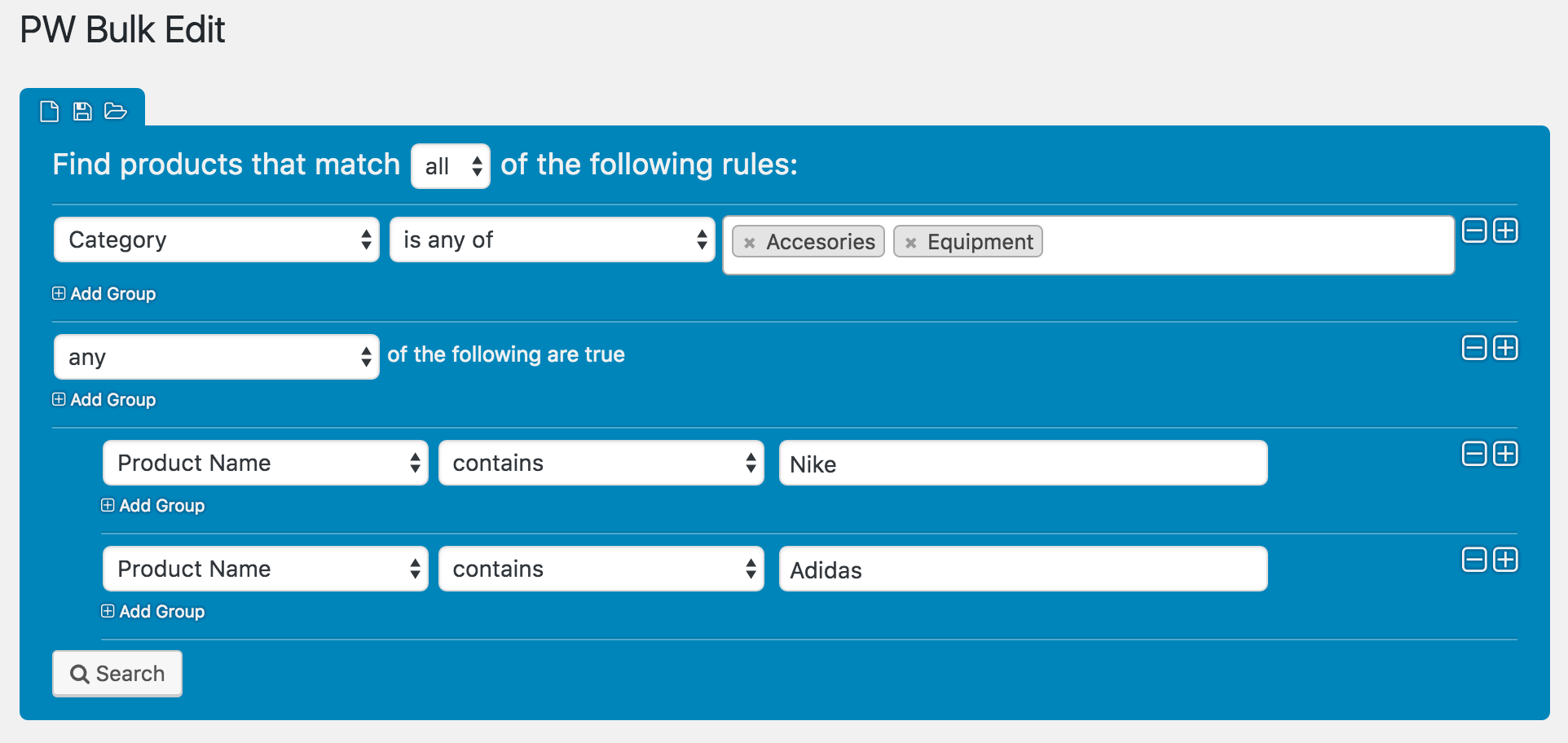 Complex filtering has been simplified to give you ultimate flexibility and control.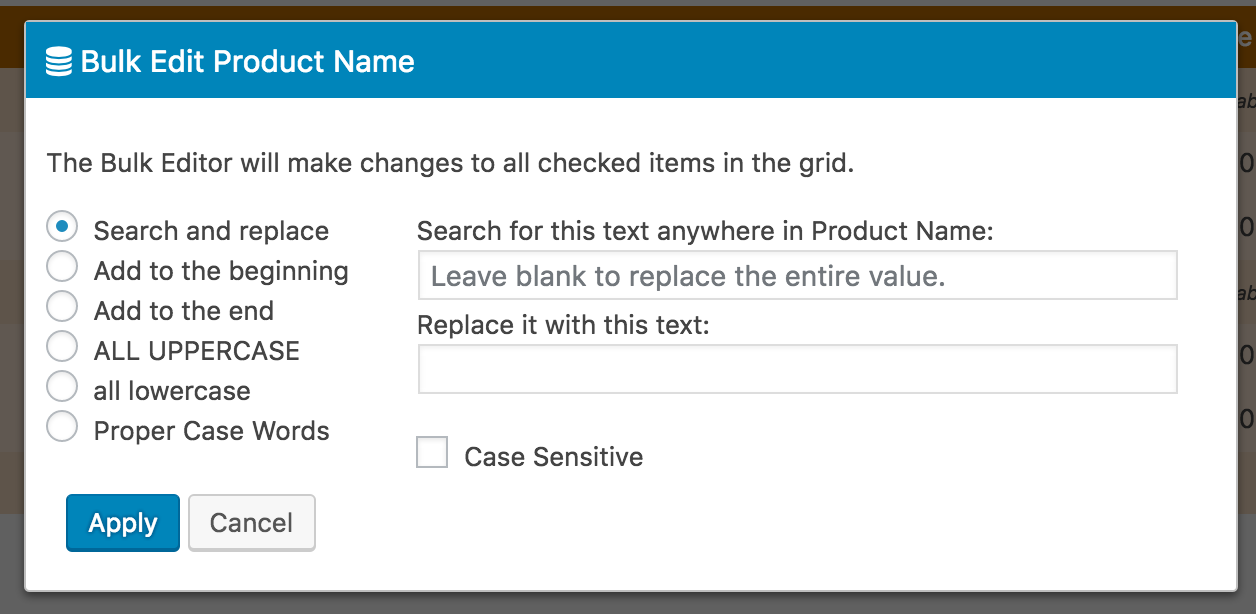 Powerful bulk editing for WooCommerce products.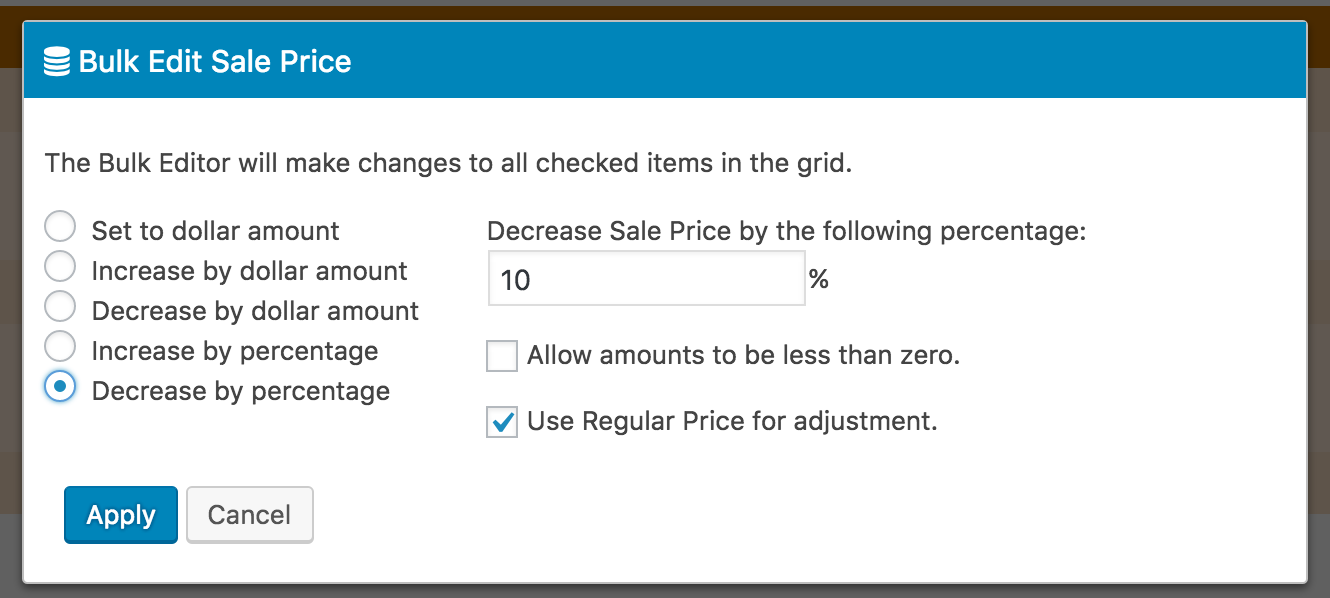 Pro level features at a fraction of the price of the competition.

Filter using YOUR attributes to select specific variations (for example, the Color attribute).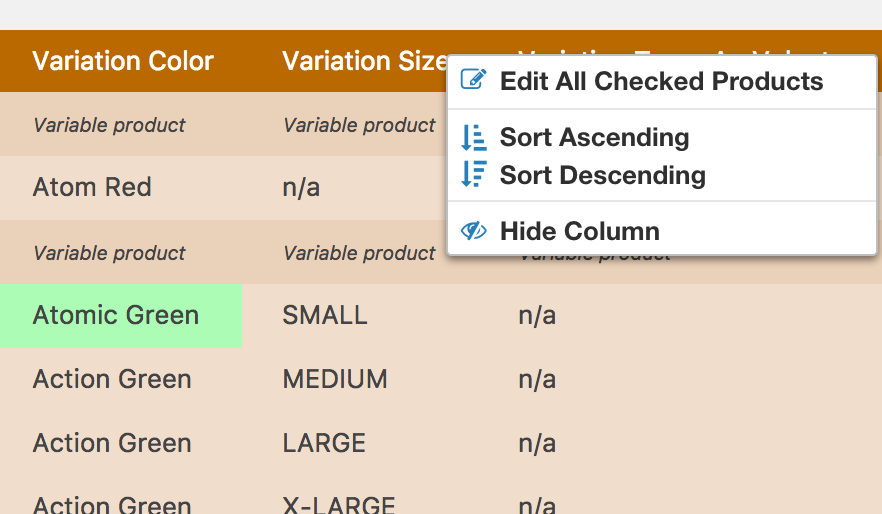 Edit Variations individually or in bulk.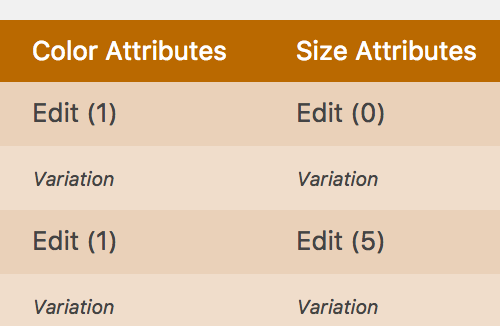 Adjust the attributes available for Variable Products.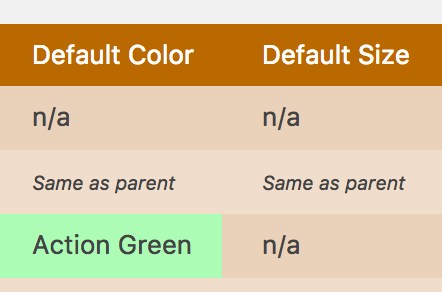 Even bulk edit the Default Form Values for Variable Products!

Relax! You're in control of your WooCommerce product catalog with the power of PW WooCommerce Bulk Edit.
Filters – Find products with PW WooCommerce Bulk Edit's intuitive filter using the following fields:
Product name
Product type
Description
Short description
Variation description
Categories
Tags
Custom attributes (Size, Color, etc)
Regular price
Sale price
Status
Stock status
Stock quantity
Shipping class
SKU
Slug
Product / Variation image
Vendor (if you have Dokan or YITH Multi Vendor installed)
Brand (if you have YITH WooCommerce Brands Add-On or the WooCommerce Brands plugin installed)
Tax status
Tax class
Manage stock
Modify a variety of product fields:
Product Name
Product image
Variation image
Product Type
Regular Price
Sale Price
Sale Start Date
Sale End Date
All of your custom Attributes
Default values for Variable products
Attribute Visibility
Product Description
Short Description
Variation Description
SKU
Categories
Tags
Tax Status
Tax Class
Weight
Length
Width
Height
Shipping Class
Manage Stock
Stock Quantity
Allow Backorders
Stock Status
Sold Individually
External/Affiliate Product URL
External/Affiliate Button Text
Virtual
Downloadable
Download Limit
Download Expiry
Download URL
Download Name
Purchase Note
Enable Reviews
Slug
Menu Order
Published on
Last edited on
Catalog Visibility
Featured
Status
Cross-sells and Up-sells (enable the "Linked Products" option in Settings)
Fields from certain third-party plugins and themes:
Other features include:
Easily add Variations to products
See what you're about to change before you hit save – No more surprises!
Inline editing in addition to bulk editing
Safety net: you can undo changes before saving
Use the power of Regular Expressions for searching and replacing text values
Edit Variations just as quickly as simple products
Change prices by a specific amount or a percentage
Specify rounding precision when changing prices by a percentage
Change the Sale price based on Regular price
Save and load filters
Add/remove categories
Search/replace text, append, prepend, or change capitalization
Wildcard searches
Keyboard navigation
PW WooCommerce Bulk Edit is so easy to use!
Usage
Click on Pimwick Plugins -> PW Bulk Edit and start adding filters. Click on the Search button to show the products.
In the Product Grid, click on any cell to start editing. Column headers can be clicked to perform bulk editing on the entire column. You can also sort and hide columns by clicking on column headers.
Review all changes and click the Save Changes button to commit the changes to the database. Use the Undo / Redo buttons to correct any issues prior to saving.
Troubleshooting
Maximum 1,000 rows returned
In order to prevent browser-side performance issues, results are limited to 1,000 rows at a time. Add more filters to reduce the number of records returned.
Allowed Memory Exhausted Errors
Returning lots of data can sometimes cause PHP memory errors. You can do two things to fix the issue:
1. Add more filters to reduce the number of records returned. This may or may not be possible depending on what you're trying to accomplish.
2. Increase the allowed memory for your server. You may need to contact your host provider for this. Here is a guide to increasing memory (note: this is not affiliated with us, just one of the clearer guides that can be found online): http://www.wpbeginner.com/wp-tutorials/fix-wordpress-memory-exhausted-error-increase-php-memory/
Frequently Asked Questions
https://www.pimwick.com/faq-topic/pw-woocommerce-bulk-edit/
Try before you buy!
There is a free version available with limited features. To install it, log into your WordPress Admin area, click on Plugins -> Add New, and search for "Pimwick".
License Information
Your license will renew automatically every year. If you want to cancel the renewal, you can do so from the My Account page. If you cancel your subscription and your license expires, you may continue using all of the features of the Pro version without any restrictions. However, you won't receive new features / bug fixes until you renew and you will be unable to activate the plugin again if deactivated or you change sites. We do not offer refunds for renewals. You can move your license to another site by deactivating the plugin and activating it on the other site.
Refund Policy
All of our plugins include a 30 day refund policy. However, due to the nature of the Bulk Edit plugin, we can only offer a refund for Bulk Edit licenses that have not yet been activated. Any activated Bulk Edit plugin (or bundle including the Bulk Edit plugin) will only be refunded during the 30 day window if the plugin does not work correctly for your website and we are unable to assist you. Please Contact Us prior to purchasing if you have any questions!
Version History
View the changelog.txt file.
We love creating elegant plugins.
WooCommerce is powerful, flexible, and sometimes really complicated!
Our passion is creating high quality, easy to use plugins that are affordable or free.
At Pimwick we LOVE making plugins that save people time and are easy to use. Contact Us if you have any questions!
We are proud to offer a variety of free and premium plugins that will save you time, enhance your WooCommerce store, and earn you more money!
Plugin Bundles
---
Three plugins with the essential features missing from WooCommerce!

Includes BOGO, Bulk Edit, On Sale! and Let's Export!
Premium Plugins
---

Sell gift cards to your WooCommerce store!

Finally, no more tedious clicking through countless pages making the same change to all products!
Super charge your WooCommerce Coupons with a suite of features. More options, more sales.

Makes Buy One, Get One promotions so easy!

Easily track and reward affiliates in your WooCommerce store.

You only need ONE PLUGIN to run your Black Friday, Cyber Monday, and other special events!

Schedule sales by date and time for ENTIRE CATEGORIES instead of one product at a time. Simply the FASTEST way to schedule sales in WooCommerce!

No more complicated processes to export your data. Designed for maximum usability, create Excel and CSV files in seconds.
Free Plugins
---
These plugins are completely free to use. It's our way of giving back to the WooCommerce community!

Adds a Copy button to WooCommerce coupons so you can quickly create similar coupons without having to start from scratch.
Specify products that cause Free Shipping to not be available when they are in the cart.