This plugin was designed to help you run your Black Friday, Cyber Monday, and other special sales events. All year long.

You only need ONE PLUGIN to run your WooCommerce Black Friday, Cyber Monday, Memorial Day, and other special events!
Schedule events by date and time
Upcoming event countdown timer
Restrict to Products, Categories, and Tags
Group deals together for the event
Built-in promotion designer
Event ending timer
Order limits
BOGO and Buy X, Get X promos
Fixed price discounts
Percentage discounts
No permanent changes to products
Offer free shipping during the event
Copy Events
And more!
1 Site
1 year of updates and support
$69
Best Value!
5 Sites
1 year of updates and support
$99
Amazingly friendly admin interface!

Schedule Events
Specify the date and time for the event, including the hour!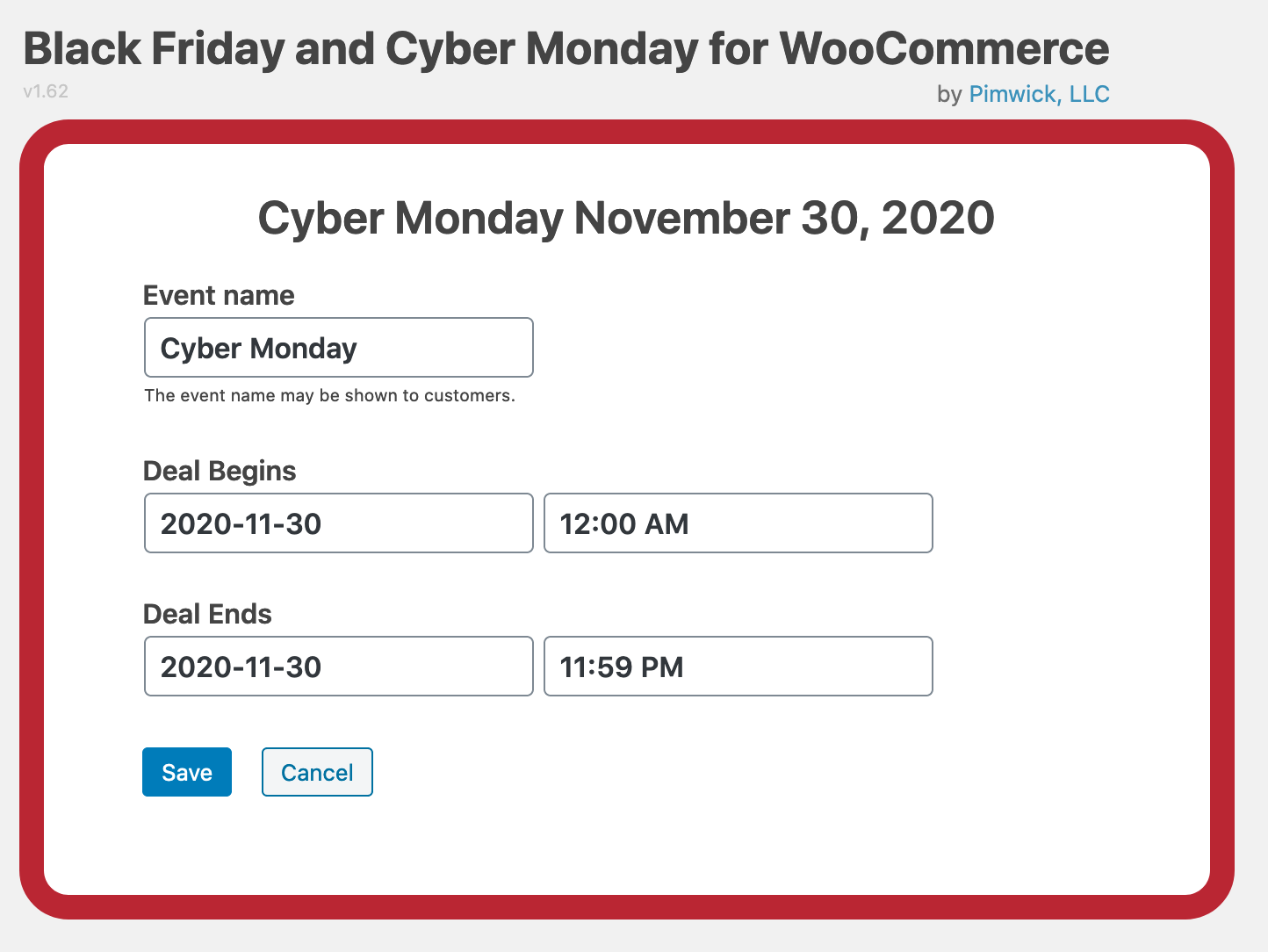 Dashboard
Manage all of your events and see the details at a glance.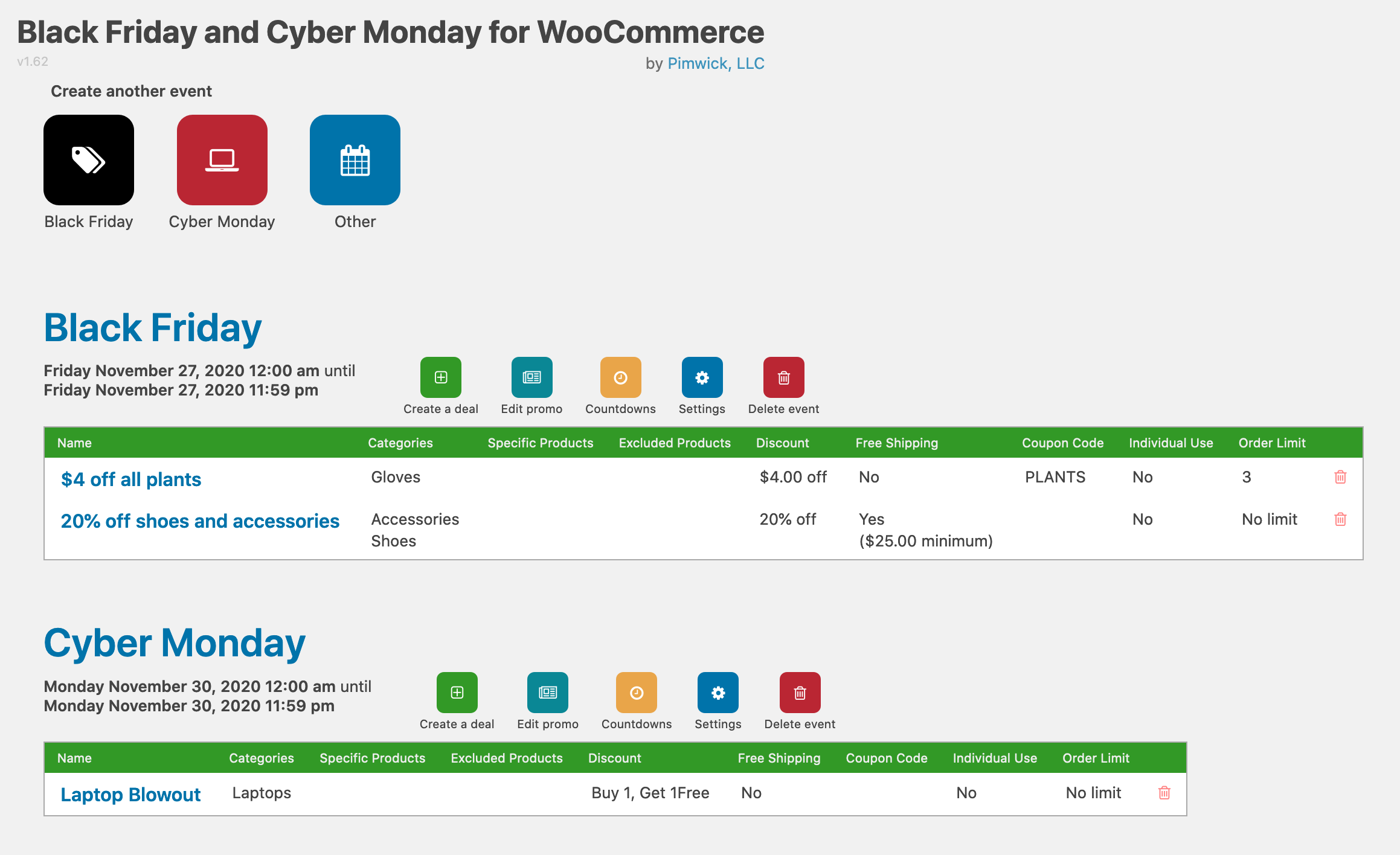 Countdowns
Generate anticipation before the event, create a sense of urgency during the event.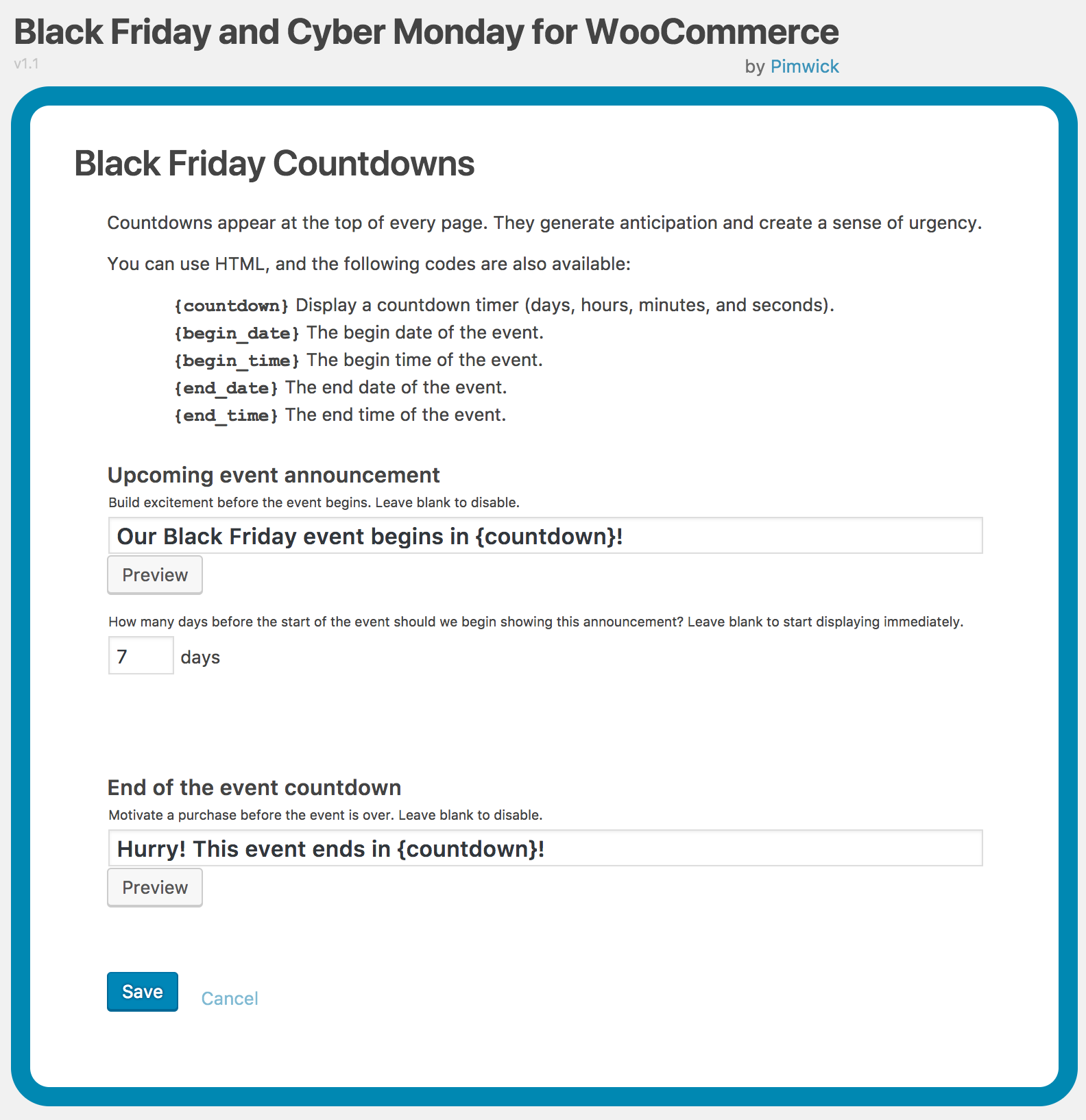 Visible Event Deadlines
Create a sense of urgency and nudge shoppers to purchase.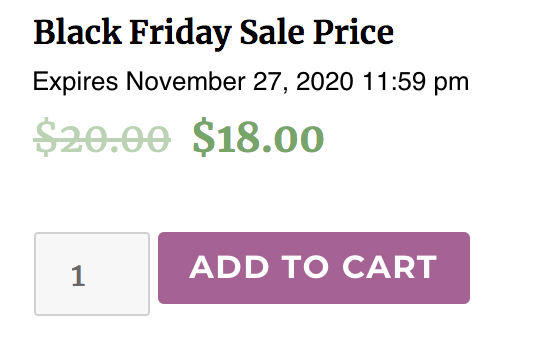 Front Page Promo
Use the full screen promo spot to highlight products in your event.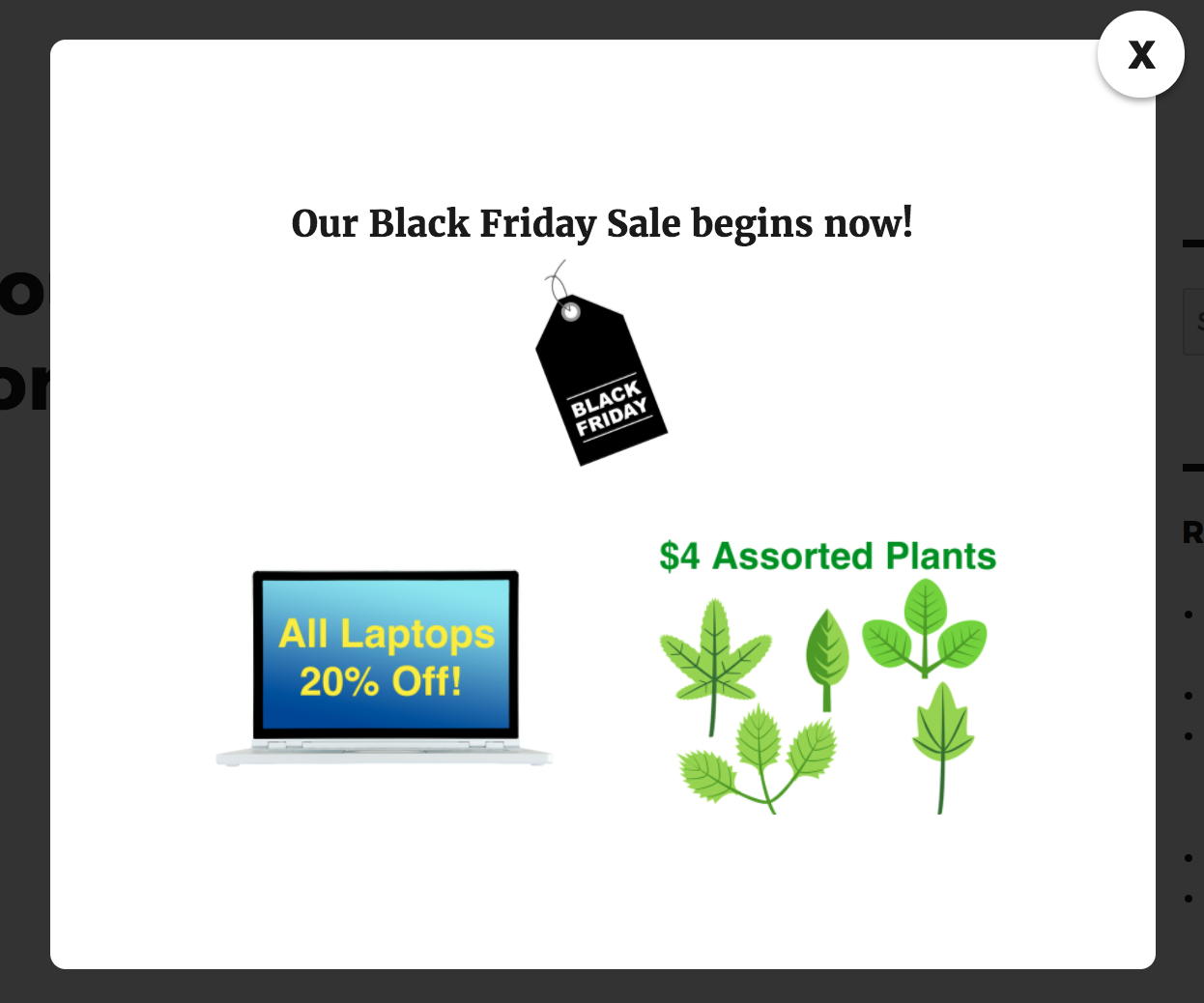 Deal Wizard
Specify which products are on sale.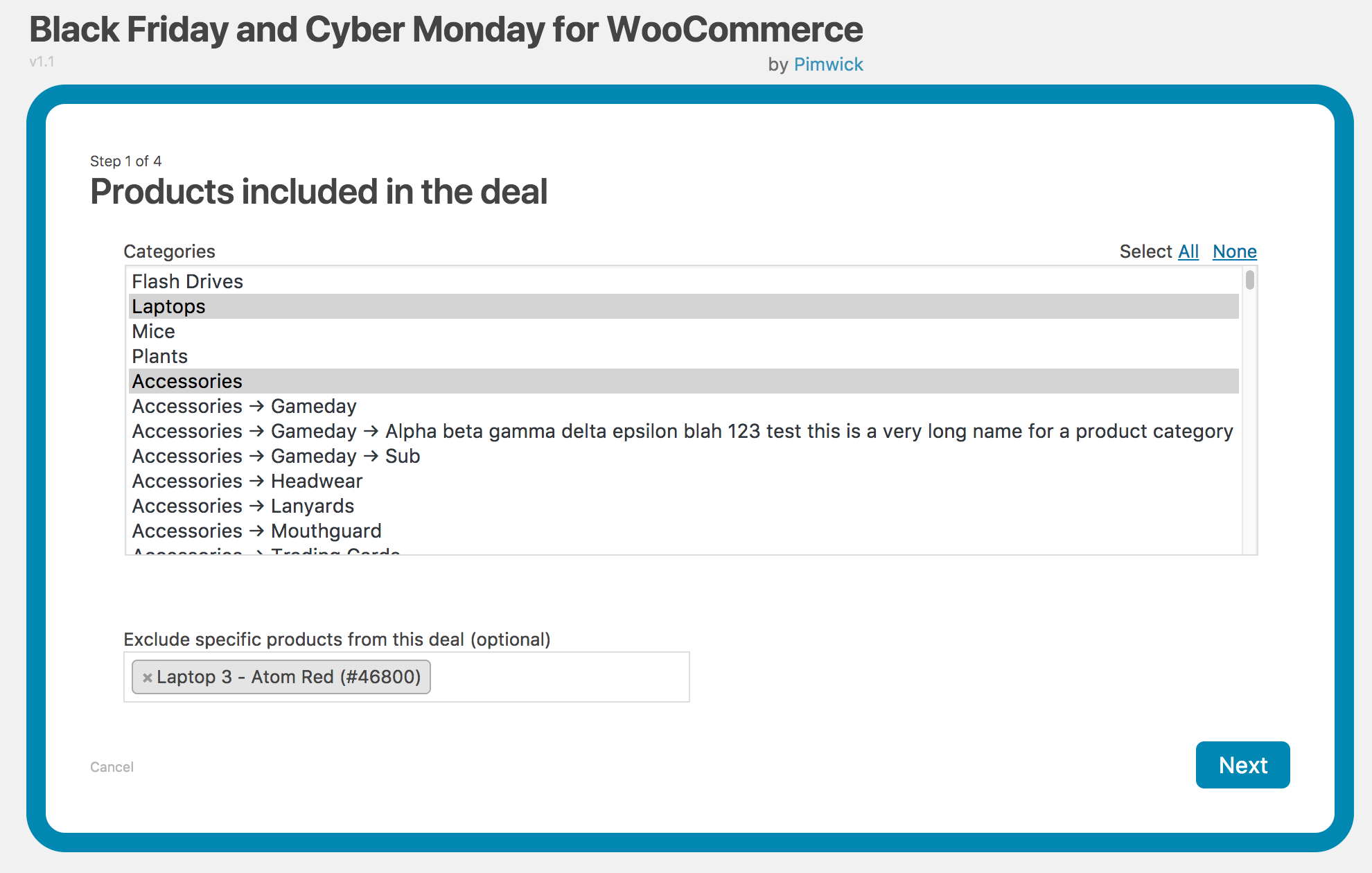 Promotion Types
Choose between % off, fixed amount off, and Buy X, Get X promotions.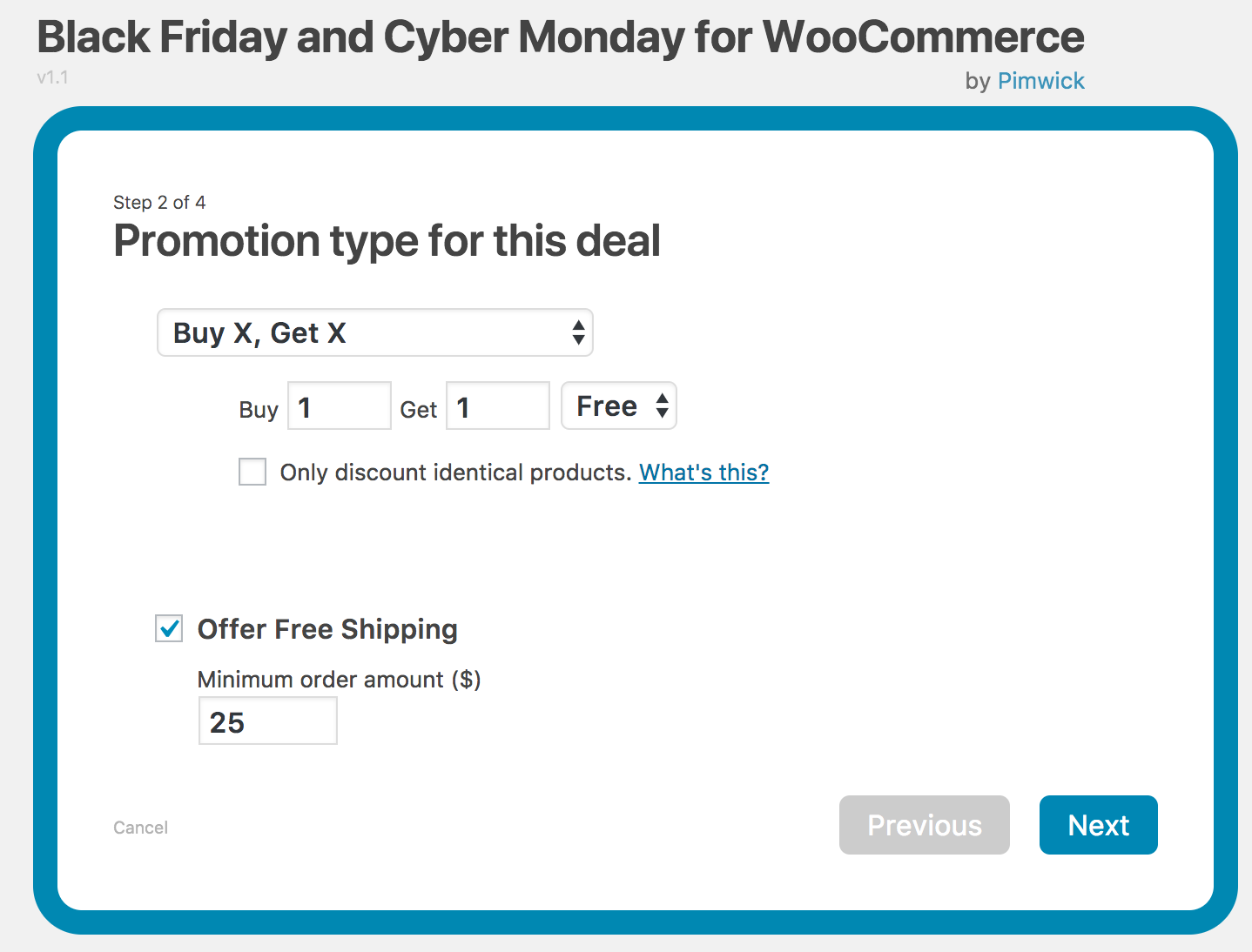 Restrictions
Customize your deal.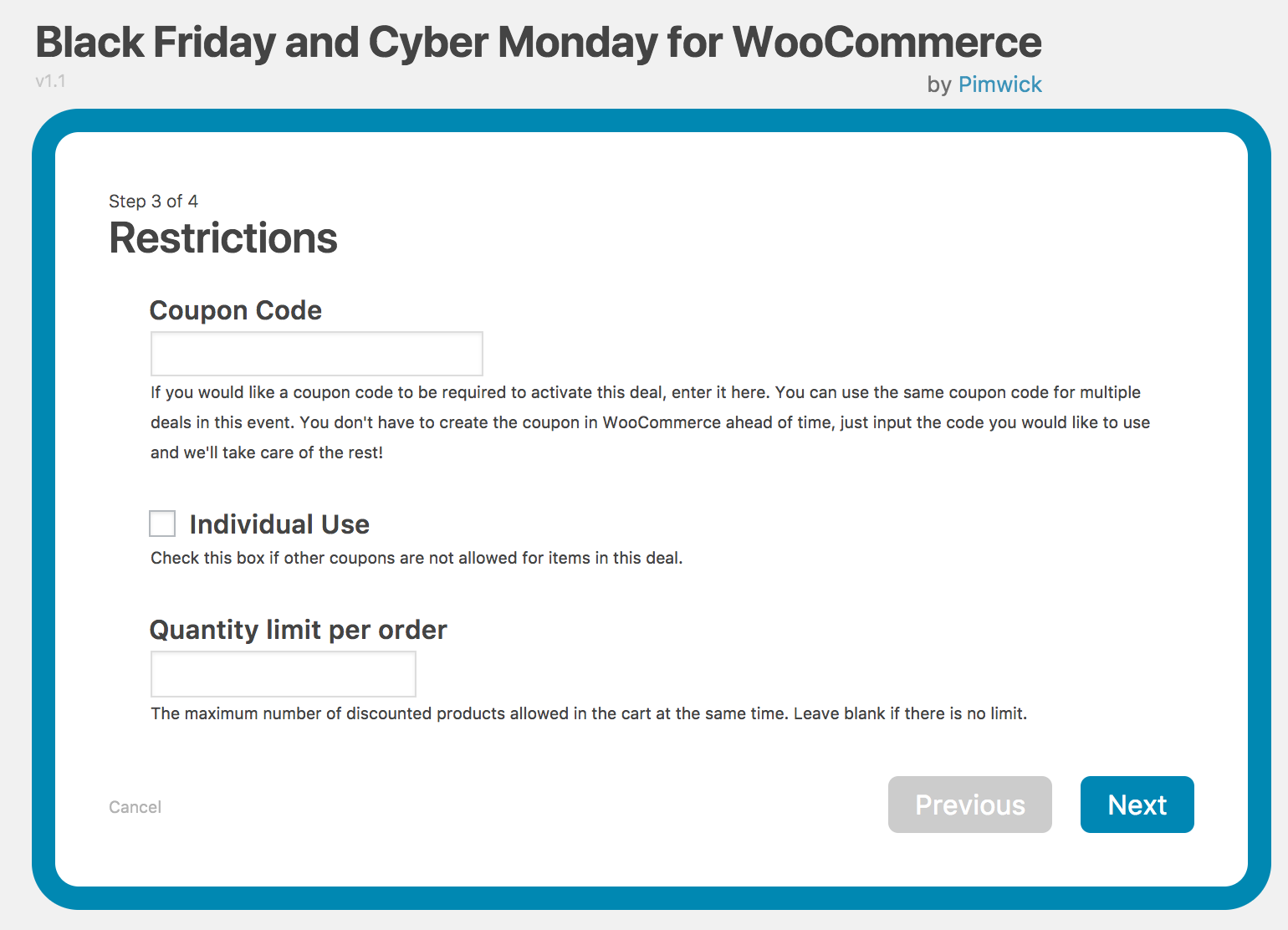 Multilingual
Available in the following languages:
Danish
Dutch
French
German
Italian
Russian
Spanish
Is this just for Black Friday and Cyber Monday?
Definitely not! Once we created the Black Friday plugin we realized it will work wonders for other events like Memorial Day sales, Customer Appreciation events, and more!
Try before you buy
There is a free version available with limited features. To install it, log into your WordPress Admin area, click on Plugins -> Add New, and search for "Pimwick".
License Information
Your license will renew automatically every year. If you want to cancel the renewal, you can do so from the My Account page. If you cancel your subscription and your license expires, you may continue using all of the features of the Pro version without any restrictions. However, you won't receive new features / bug fixes until you renew and you will be unable to activate the plugin again if deactivated or you change sites. We do not offer refunds for renewals. You can move your license to another site by deactivating the plugin and activating it on the other site.
Your license is valid only for the number of sites purchased and cannot be redistributed. If redistributed, your license will become invalid and the plugin will be disabled.
We cannot offer refunds for license renewals since that is what grants access to the latest version. You may cancel your subscription if you do not wish to be automatically billed for future renewals.
Version History
View the changelog.txt file.
WooCommerce Experts Since 2016
WooCommerce is powerful, flexible, and sometimes really complicated!
Our passion is creating high quality, easy to use plugins that are affordable or free. We have been developing and supporting high quality WooCommerce plugins since 2016.
Why we created this plugin
We created the Black Friday plugin because we wanted an all-in-one solution for our sales events. Creating events in WooCommerce requires buying many different plugins that don't talk to each other. This plugin handles the sale itself as well as the promotions.
At Pimwick we LOVE making plugins that save people time and are easy to use. We know you will love our plugins as much as we do. Contact us if you have any questions!
Need help?
Check out our Frequently Asked Questions page.