This plugin was designed to help you run your Black Friday, Cyber Monday, and other special sales events. All year long.

You only need ONE PLUGIN to run your WooCommerce Black Friday, Cyber Monday, Memorial Day, and other special events!
Schedule events by date and time
Group deals together for the event
Built-in promotion designer
Upcoming event countdown
Event ending timer
Order limits
Buy X, Get X promos
Fixed price discounts
Percentage discounts
No permanent changes to products
Offer free shipping during the event
And more!
Black Friday / Cyber Monday Pro
Single Site
$59
Most Popular
Black Friday / Cyber Monday Pro
5 Sites
$89
Black Friday / Cyber Monday Pro
Unlimited Sites
$199
Amazingly friendly admin interface!

Schedule Events
Specify the date and time for the event, including the hour!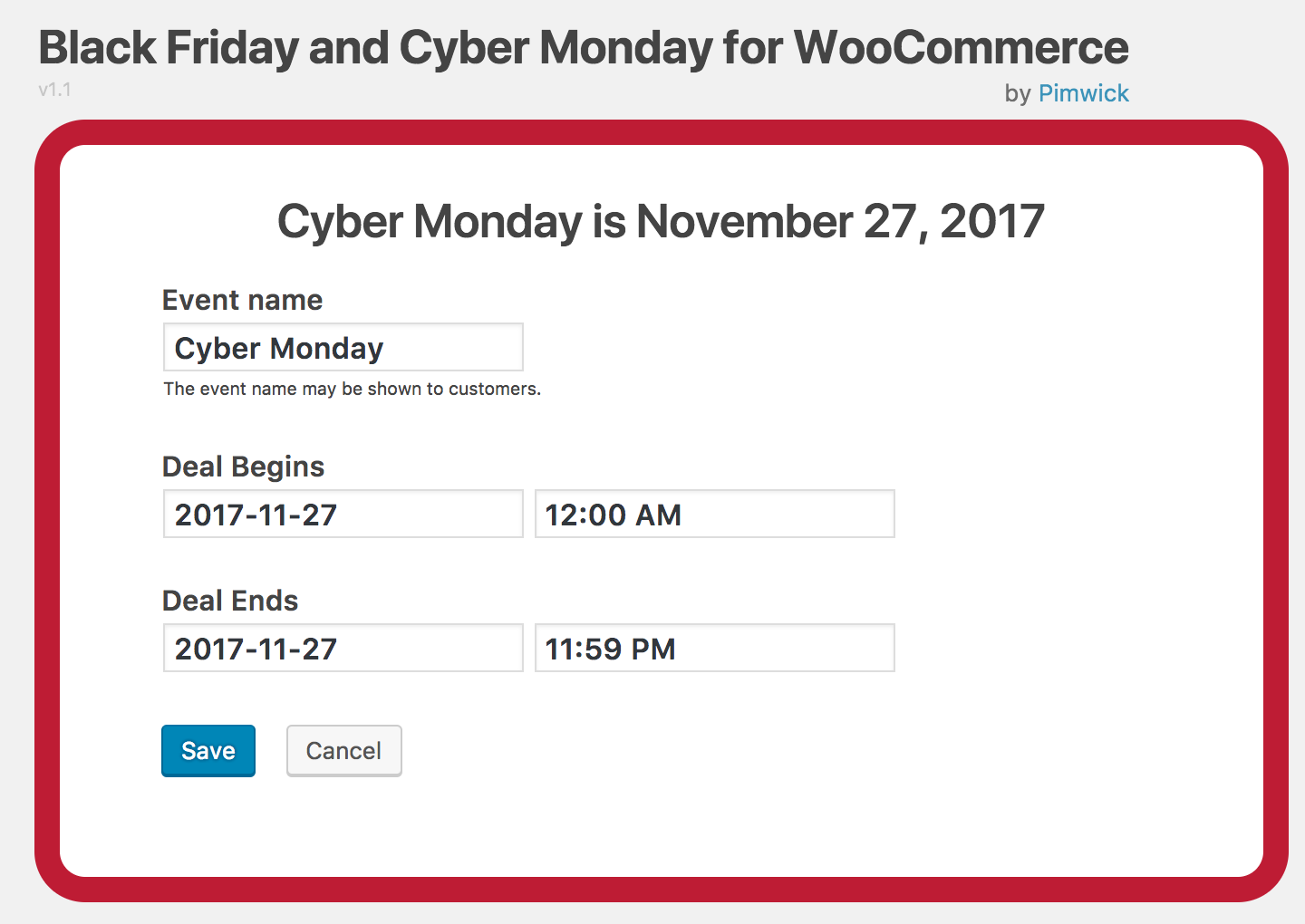 Dashboard
Manage all of your events and see the details at a glance.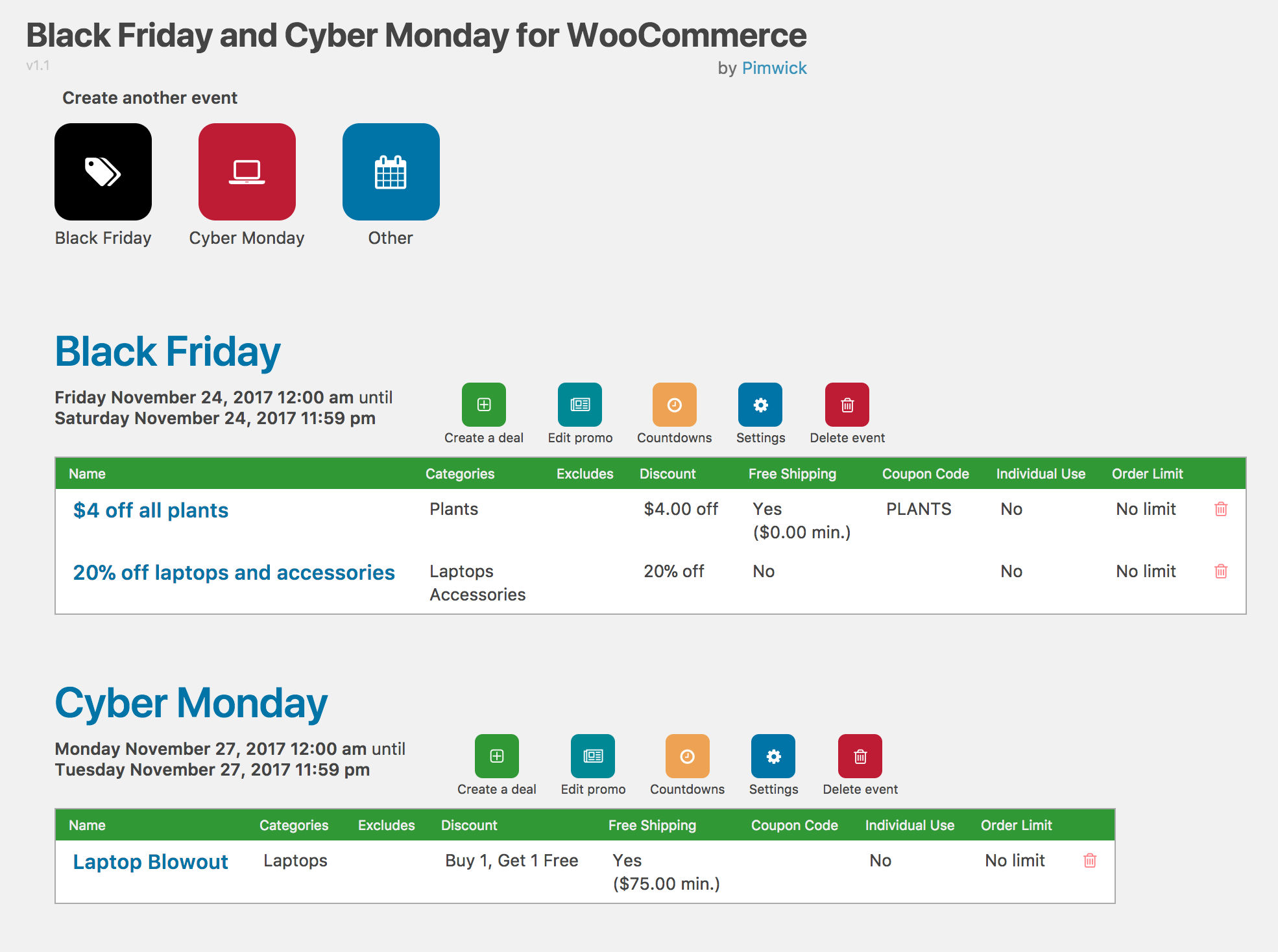 Countdowns
Generate anticipation before the event, create a sense of urgency during the event.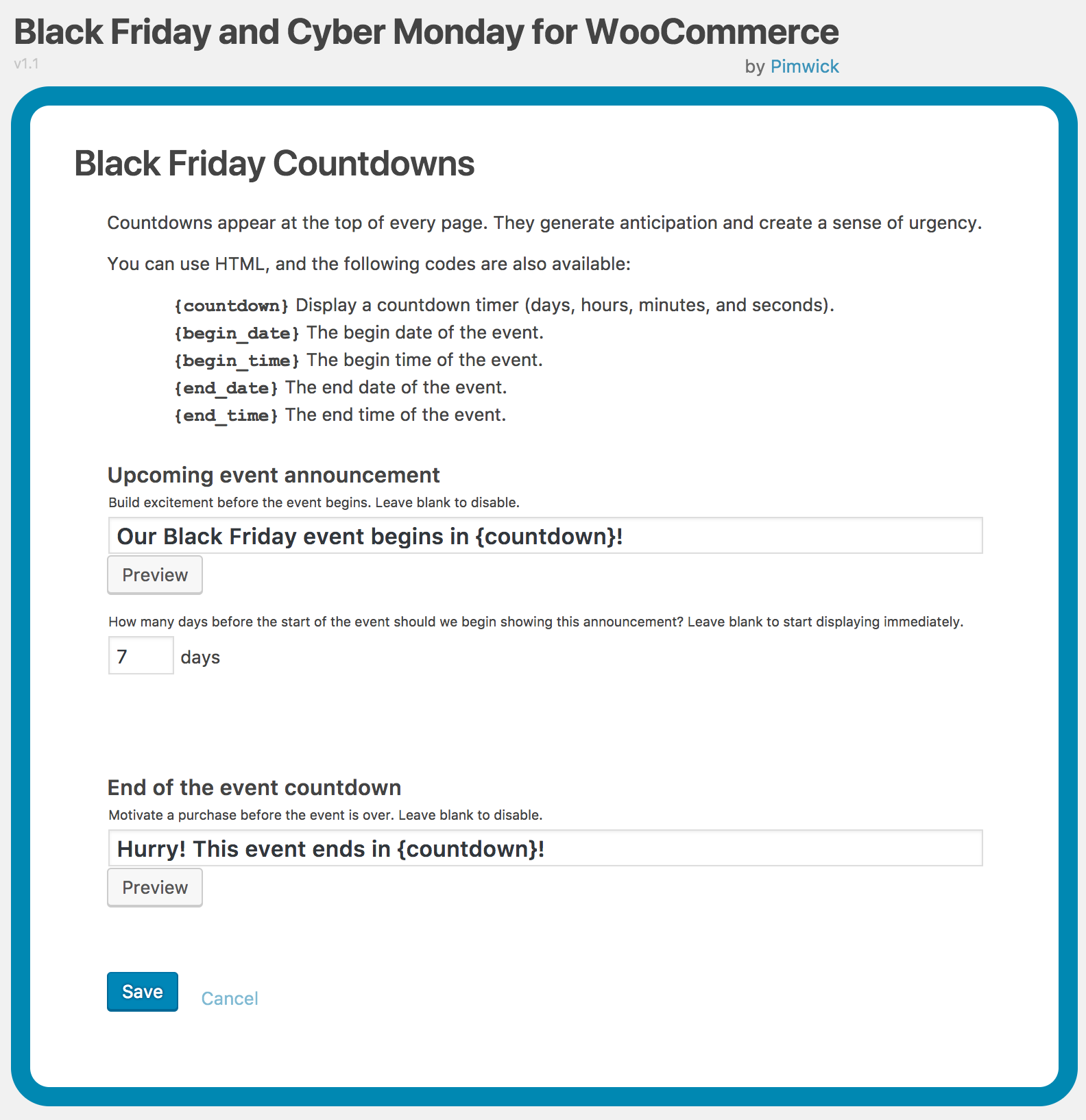 Visible Event Deadlines
Create a sense of urgency and nudge shoppers to purchase.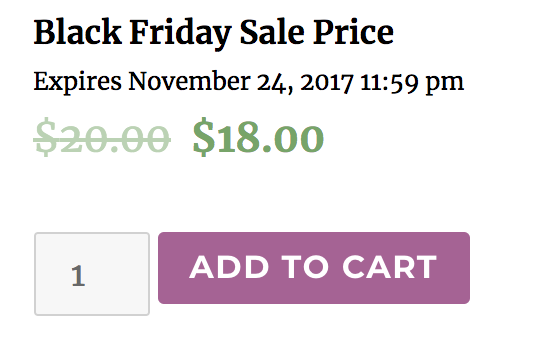 Front Page Promo
Use the full screen promo spot to highlight products in your event.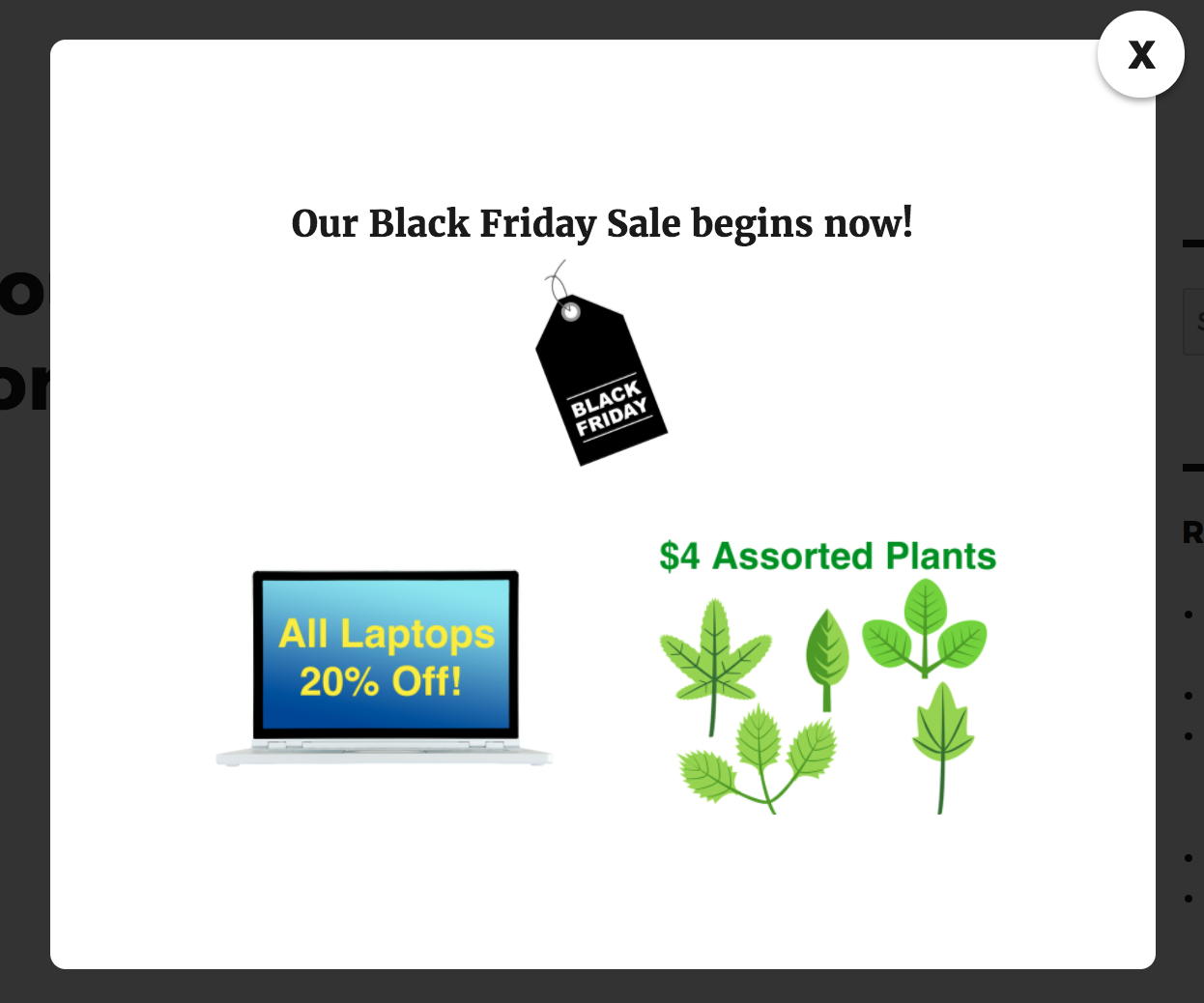 Deal Wizard
Specify which products are on sale.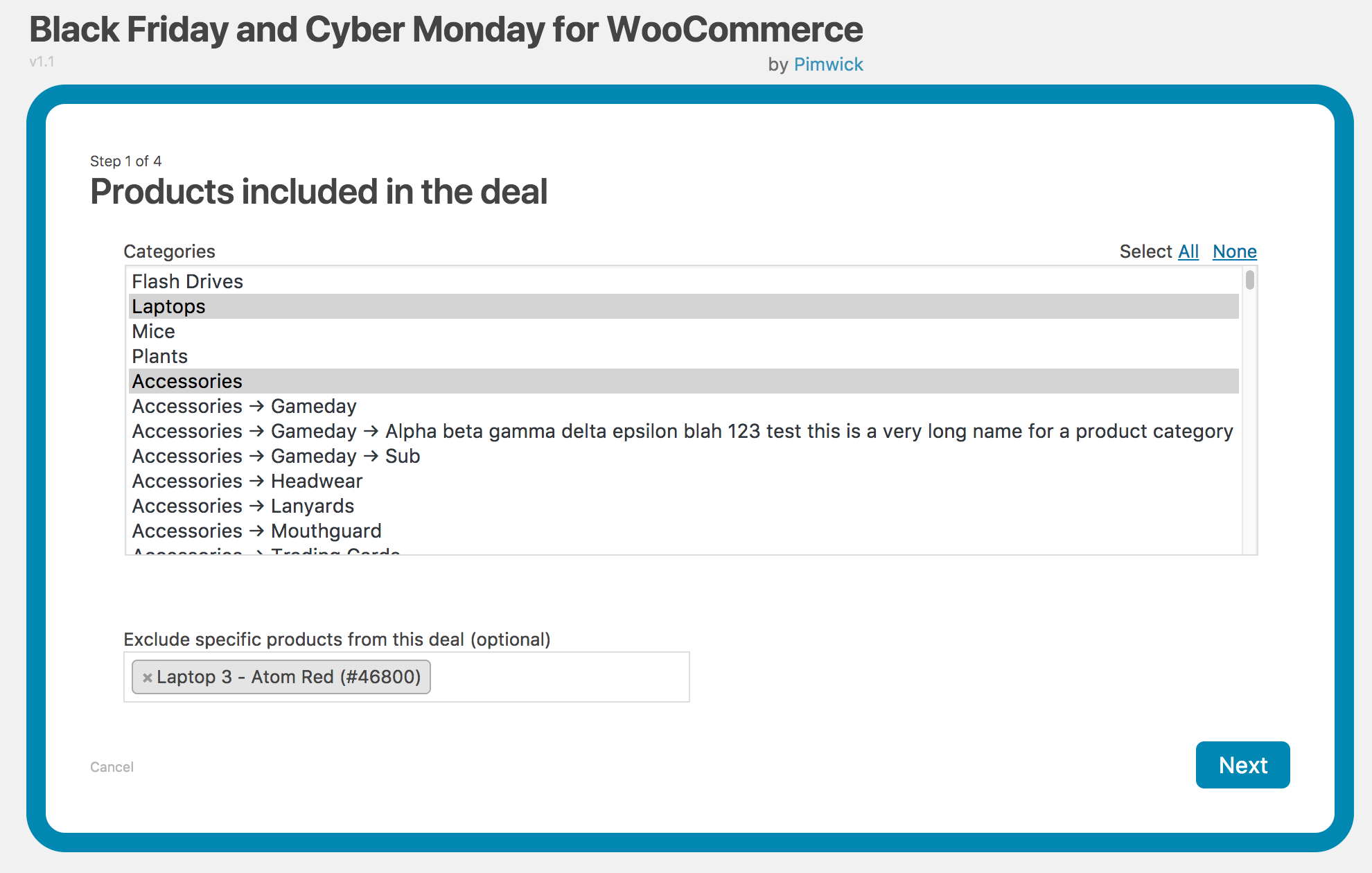 Promotion Types
Choose between % off, fixed amount off, and Buy X, Get X promotions.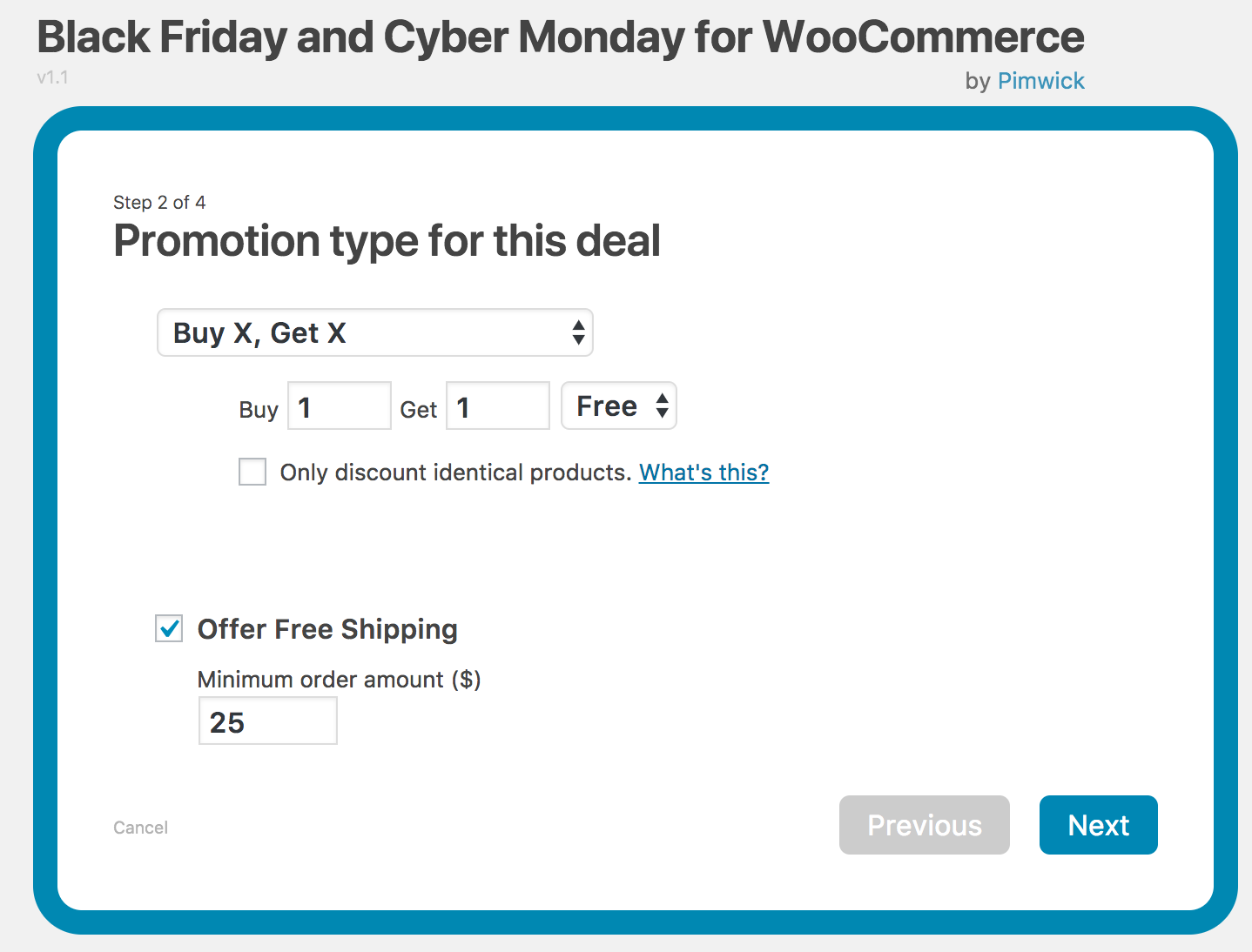 Restrictions
Customize your deal.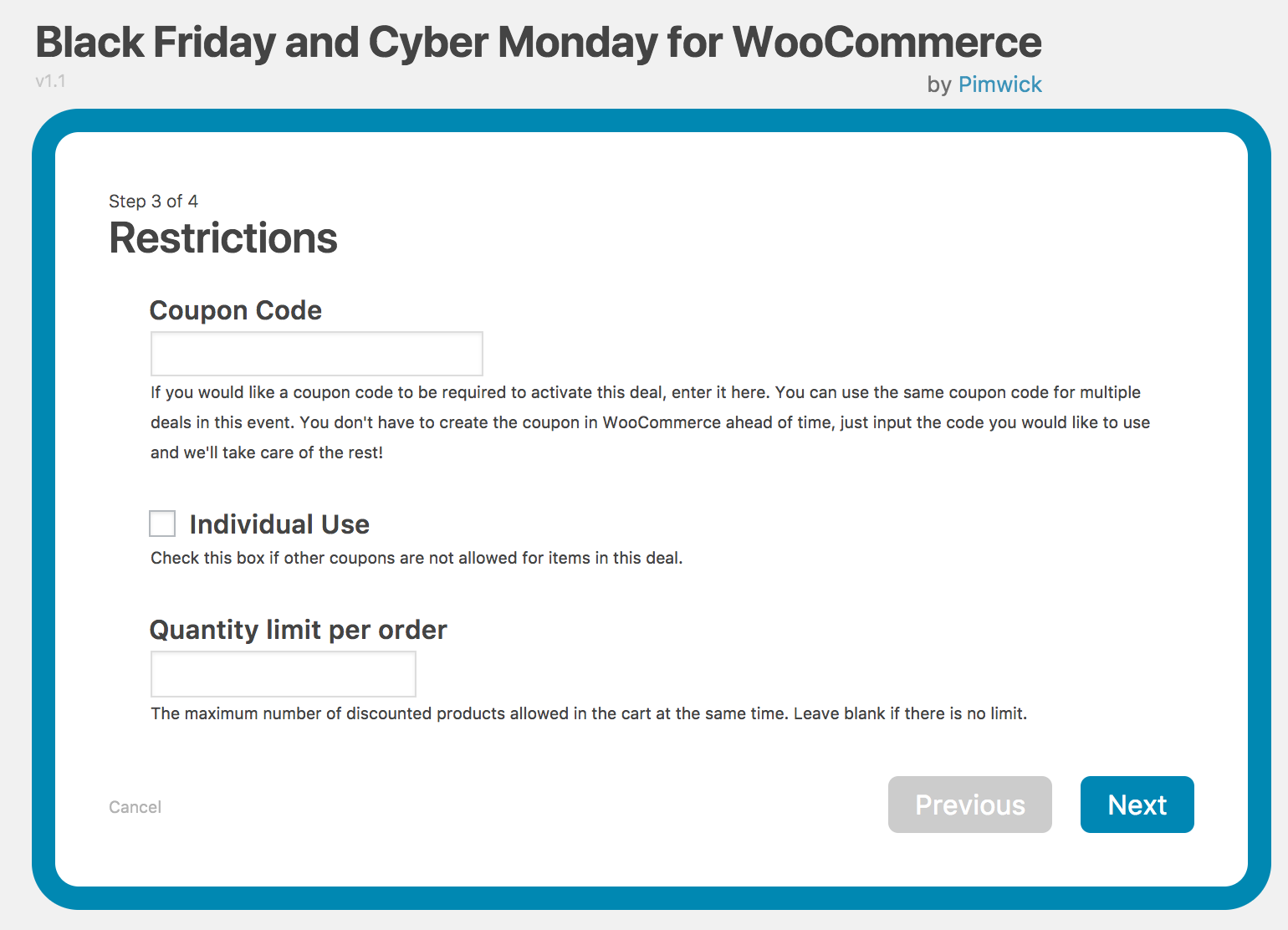 WooCommerce Black Friday and Cyber Monday sales plugin. Making it easy to run your sales events!
Every Pro license includes:
1 year of support
1 year of upgrades
Unlimited use – Plugin does NOT expire, it's yours forever!
Try before you buy
There is a free version available with limited features. To install it, log into your WordPress Admin area, click on Plugins -> Add New, and search for "Pimwick".
Multilingual
Available in the following languages:
Dutch
French
German
Italian
Russian
Spanish
We love creating elegant plugins.
WooCommerce is powerful, flexible, and sometimes really complicated!
Our passion is creating high quality, easy to use plugins that are affordable or free.
Why we created a Black Friday and Cyber Monday plugin
We created the Black Friday plugin because we wanted an all-in-one solution for our sales events. Creating events in WooCommerce requires buying many different plugins that don't talk to each other. This plugin handles the sale itself as well as the promotions.
Is this just for Black Friday and Cyber Monday?
Definitely not! Once we created the Black Friday plugin we realized it will work wonders for other events like Memorial Day sales, Customer Appreciation events, and more!
We are continuing to add new features to this amazing plugin. If you have suggestions we'd love to hear it! Email us@pimwick.com and tell us what you want to see next.
At Pimwick we LOVE making plugins that save people time and are easy to use. Contact us@pimwick.com if you have any questions!
---
We are proud to offer a variety of free and premium plugins that will save you time, enhance your WooCommerce store, and earn you more money!
WooCommerce Essentials Bundle
Three plugins with the essential features missing from WooCommerce!

Gift Cards
Sell gift cards to your WooCommerce store!

Bulk Edit
Finally, no more tedious clicking through countless pages making the same change to all products!

BOGO
Makes Buy One, Get One promotions so easy!

Affiliates
Easily track and reward affiliates in your WooCommerce store.

Black Friday and Cyber Monday for WooCommerce
You only need ONE PLUGIN to run your Black Friday, Cyber Monday, and other special events!

On Sale!
Schedule sales by date and time for ENTIRE CATEGORIES instead of one product at a time. Simply the FASTEST way to schedule sales in WooCommerce!

Let's Export!
No more complicated processes to export your data. Designed for maximum usability, create Excel and CSV files in seconds.

Copy Coupon
Adds a Copy button to WooCommerce coupons so you can quickly create similar coupons without having to start from scratch.
Exclude Free Shipping
Specify products that cause Free Shipping to not be available when they are in the cart.
Legendary Customer Support
Sometimes things don't go as planned. When that happens, we stick with you until it's resolved. Your request is not put in a queue, a real person responds quickly! Don't believe us? Email
us@pimwick.com
and see for yourself!
We know you will love our plugins as much as we do. Satisfaction 100% guaranteed. We offer a 30 day refund on our plugins.